One hundred and twenty Senior Secondary School students from Omu-Aran in Kwara, on Wednesday benefited from a career counselling initiative organised by Landmark University, Omu-Aran.
Newsmen report that the initiative which attracted eight schools in the area was under the Landmark University Community Development Impact Initiative (LMUCDII).
It was also part of the activities marking the 60th birthday of Pastor (Mrs) Faith Oyedepo, wife of the institution's Chancellor, Bishop David Oyedepo.
The chairman of the initiative, Pastor Abiodun Okunola, said that the programme was part of the institution's corporate social responsibility geared toward improving the students' overall best performance.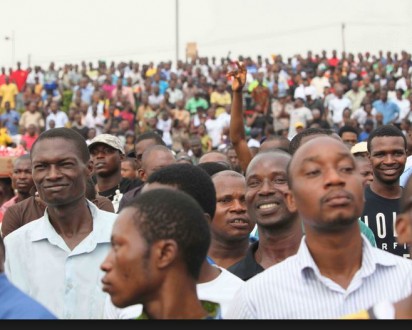 Okunola said that the need for students, especially those in the senior cadre, to be well guided in making the right choice of courses that would benefit their future academic career informed the programme.
"We felt the students getting to that stage in their academic pursuit needed a kind of professional counselling and tutelage to assist them to make the right choice of courses.
"They needed to be wary of the requirements, prospects, challenges and benefits derivable from all available courses that would suit their future plans," he said.
Okunola said that the institution, through the initiative, had also partnered with some youths and had visited orphanage homes in its efforts to impact positively on the under-privileged in the society.
"We are already in partnership with Omu-Aran Youth Forum through our agrarian revolution drive toward encouraging the youth to embrace agriculture as a business and as a vocation," he said.
Also, Dr Azubuike Ezenwome, the institution's Registrar, praised LMUCDII team for living up to the expectations of the university's management.
Ezenwome promised to give necessary support in making their assignments less stressful.
He also advised the students to take full advantage and benefits derivable from the initiative in shaping their future academic pursuit.
In his remarks, Dr Joseph Olisa, the acting Medical Director, Landmark Medical Centre, in a presentation, stressed the need for students wishing to offer medical courses to be patient, diligent and honest.
Also, Mr James Dada, the university's Farm Manager, said that there was an urgent need to make agriculture-related courses more attractive, especially to female senior secondary school students.
Dada, who spoke on "Choosing Career in Agriculture," advocated for expansion of agriculture-related activities such as farmers' clubs in schools.
He said that such clubs would allow for a wider participation of students in crop production and other aspects of farming.
Dada said that the nation's agriculture sector was presently in dire need of passionate, skillful, intelligent, innovative and upcoming practitioners to achieve the desired success.
"Agriculture as a career is not for dropouts, it is not for the weaker ones or those lagging behind," James added.
Adebusuyi Feranmi, an SSI student of ECWA Secondary School, Omu -Aran, thanked the organiser for their efforts, describing the programme as "an eye opener''.
Other schools that participated in the programme were Omu-Aran High School; Ogbo Grammar School; Government Christian College; Government Secondary School; God's Grace College and Community Secondary School, Ipetu.
NAN