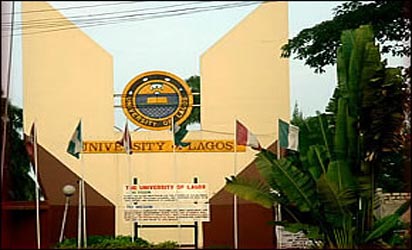 Jega calls for electoral integrity, volunteers, ahead of 2019 elections
By Dayo Adesulu and Elizabeth Uwandu
The University of Lagos, UNILAG Muslim community, UMC in collaboration with Muslim Ummah of South Western Nigerian and UNILAG Muslim Alumni recently honoured Prof. Rahmon Bello and former Bursar, Dr Lateef Odekunle for their exemplary leadership and selfless service to the ivory tower and the country at large.
Prof. Rahmon Bello was the immediate past Vice Chancellor while Dr Lateef Odekunle was also the former Bursar of UNILAG.
The duo were honoured at a special lecture themed: "Prospects and challenges of involving volunteers in Nigeria's electoral process," delivered by Prof. Attahiru Jega, former Chairman, Independent Electoral Commission, INEC held at the Julius Berger Hall, Unilag recently.
The chairman, UNILAG Muslim community, UMC, Prof. Lai Olurode in his opening remarks said the event was meant to honour the selfless services of Prof.   Bello and Dr Olakunle,   not only to UNILAG but to the country at large.
"This lecture is designed to honour two distinguished fellows of UNILAG whose selfless service have impacted in the lives of several people not only in the university community but in the nation at large. We thank Allah for these great men and their exemplary leadership and asked for continued strength and wisdom in their future endeavours. "
While delivering his lecture, Prof. Jega, called for electoral integrity and volunteers to ensure credible polls in 2019, adding that elections of liberal society, like Nigeria, demanded electoral integrity and general participation.
" Nurturing, sustaining, deepening and consolidating liberal democracy are all predicated on electoral integrity, which guarantees the true expression of the right of voters to freely choose their chief executives and representatives in legislatures during periodic elections.
"Imbuing elections with integrity should therefore be the preoccupation of all citizens and all stakeholders in a country, not just the election management body and/or other governmental institutions and agencies. This is especially necessary in transitional democracies, such as Nigeria with a bad history of poorly conducted and fraudulent elections."
Jega called for proactive steps ahead 2019 elections,  adding that the question of rights of volunteers and INEC staff in the performance of their civic duty during elections must also be addressed.
"Important issue to be addressed as we move towards the 2019 elections relates to how to expand the scope of the participation of citizens generally in the electoral process, and specifically how to increase the positive role of volunteers. For example, how to minimize or eliminate the challenges, which arise with their participation and how to ensure that their participation adds tremendous value to the integrity of Nigeria's elections."
While commending the roles of past volunteers such as members of National Youth Service Corps, NYSC, people from the academia and civil society groups, Prof Jega said there was the need for volunteers to be selfless and people of exemplary character.
He added that aside from taking proactive steps in ensuring the security of the volunteers and INEC staff, the electoral body was ready to conduct free and fair elections.