By Dennis Agbo
GOVERNOR Ifeanyi Ugwuanyi of Enugu state has inaugurated about 2 kilometres Umunkaka- Odenigwe gate- University of Nigeria road built by the Chairman of Peace Mass Transit boss, Dr. Sam Onyishi.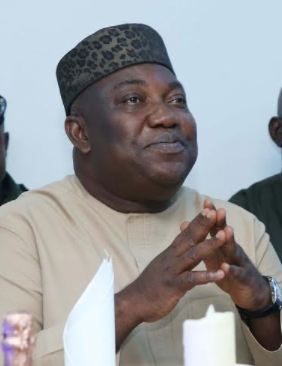 On the occasion, the Governor  named the road 'after the transport magnate,'Sam Maduka Onyishi.
The double drain road is a relief to the University of Nigeria Nsukka community and Umunkaka village as an outlet and a shortcut linking Enugu road and the rest of the University community.
Onyishi said the construction of the road was informed by the Corporate Social Responsibility policy of his company, especially as he established the organisation with the N1,200 compensation the institution paid the family 35 years ago.
"The road will help the Nsukka community, particularly Umunkaka village, synergise with the university community for robust cross fertilization of both development and academic attainments," Onyishi said.
He prayed both the university and Nsukka communities to make good use of the road to the best of humanity and to the glory of God.