By Ben Agande, Kaduna.
The Nigerian Lawyers Renaissance Forum has called on the Attorney General of the Federation and the inspector General of Police to treat blackmail as a serious crime, saying that some criminals have resorted to blackmailing politicians as a means of livelihood.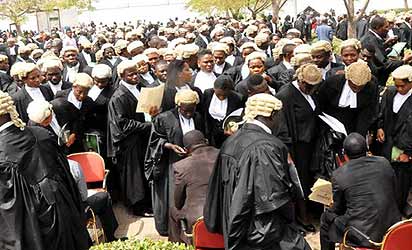 In a statement made available to Vanguard, the forum noted that the planned arraignment of self acclaimed united Kingdom private investigator, Victor Uwajeh by the Attorney General of the federation for allegedly trying to blackmail senator Andy Uba was a welcome development.
The statement signed by Barrister Jide Oyekan and Barrister Nnamdi Ugbojikwe noted that the suspect should be prosecuted to serve as deterrent to other potential blackmailers.
Mr. Uwajeh was alleged to have attempted to blackmail Senator Andy Uba by alleging the Senator representing Anambra South Senatorial district had forged his School certificate.
The Senator promptly reported to the police which upon investigation discovered that the documents submitted by the suspect were forged.
The police subsequently prepared a four count charge before Justice John Tsoho of the Federal High Court Abuja over allegations bordering on fraud, possession of false documents and forgery.
He is to be arraigned on March 6, 2018.
" It has come to our notice that with the intended prosecution of one Victor Uwajeh, the country may just be rid of such elements who have taken blackmail as their stock in trade. We wish to note that several distinguished Nigerians of repute have fallen victim to this criminal act and have complied not because the blackmail had any substance but because they didn't want any form of bad publicity.
Thankfully, for us and for many others who will never again fall victim to such a fellow, Senator Uba stood his ground and even reported the matter to the Inspector General of Police, who ordered an investigation and found out that documents and allegations tendered by Uwajeh were false and obtained via forgery which the federal government has already charged him to court" The forum said.