THREE persons were feared killed in a late night attack on Benue communities 
Thursday
, according to the residents.
According to an online publication, the Premium Times, the victims were ambushed by assailants who hit villages around Anyiin, a major town in Logo Local Government Area that serves as a base for police special forces and has one of the biggest IDP camps.
Premium Times broke the news of the attacks 
on Thursday
 night, citing residents' accounts that five persons were in critical condition from gunshot wounds.
According to the report, the victims were all rescued and taken to NKST Hospital in Anyiin by police special forces. But two of the five victims died overnight. The first victim who died was identified as 40-year-old Orduuga Kumaga. Another victim was identified as Mnenge Orson, aged 30.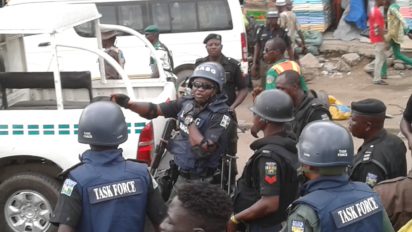 The attacks claimed a third victim whom residents identified as a man of Hausa ethnic group. He was riding on a motorcycle from his village in Akwana to Anyiin when he was killed.
He was reportedly on the bike with a Tiv man, who was also critically wounded by gunshots and was receiving treatments at the hospital in Anyiin.
A female victim, Kanan Munduga, 18, has been transferred to Benue State University Teaching Hospital, Makurdi.
Kavera Alfred, a medical personnel at NKST Hospital, said Ms. Munduga was transferred because she had lost too much blood than they could handle at his hospital.
The doctor said he was attending to two more victims, Abraham Terer, 23, and Ambua Shimer, a 40-year-old woman.
The doctor said the victim's medical bills had been covered by Terkura Suswam, a politician and founder of Ashi Polytechnic.
"He also helped to facilitate the transfer of Ms. Munduga to the Teaching Hospital in Makurdi," he said.
The doctor said the two remaining victims at his hospital had been stabilised and should be able to recover there if their treatment go on as hoped.
Residents said they were alarmed that the attackers also hit Tsukwa village, which is about a mile from Anyiin where police special forces are stationed.
According to a community chief who spoke on strict anonymity, "if they could still return to Tsukwa to carry out another attack despite its proximity to Anyiin, then we can all conclude that there's no security and even those of us in Anyiin are not safe,"
Tsukwa was one of the seven villages that recorded casualties in the 
January 1
 attacks linked to suspected herdsmen.
"The special forces personnel are usually at their station every night," a resident said. "This is something that had been reported to their bosses but no changes came."
The special forces reportedly chased the attackers and rescued some victims, but no arrests had been made in connection to the attacks as at 
9:00 a.m.
 Friday.
Since 
January 1
, hundreds of villagers have been killed in herdsmen-linked attacks that have now become regular around Benue State.
The escalation was said to be in response to the anti-open grazing law that came into effect on 
November 1
 in Benue.
Between 
January 1 and 3
, suspected herdsmen stormed the villages in Logo and Guma Local Government Areas and butchered people, according to witnesses