By Emma Ujah, Abuja Bureau Chief
ABUJA— The World Bank says it supports efforts of the Federal Government to raise domestic revenue, in order to close existing financing gaps towards achieving Sustainble Development Goals, SDGs, and infrastructure across the country.
Country Director of the bank in Nigeria, Mr. Rachid Benmessaoud, said this at the Ideas for Action Africa (IdeaLab) forum at African University of Science and Technology, AUST, Abuja, yesterday.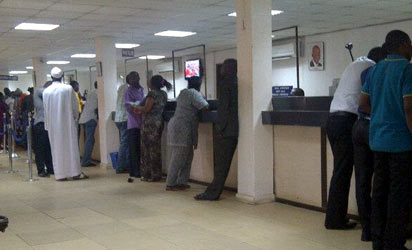 According to him, funding from development partners alone will not be sufficient to achieve the SDGs and that as such domestic revenue remained critical for the achievement of the goals globally, and in Nigeria, in particular.
He said:   "Achieving the development goals globally and within the country requires concerted efforts from everyone- from the government and development partners
"Financing alone is not the solution.  It requires a change in the way we do business. You need to realise that if I have to take the case of Nigeria for example, the World Bank and the other development partners have a small share of the total expenditures.
"If you put the entire World Bank funding and the development partners, we will not be able to achieve the Sustainable Development Goals because much more is needed from Nigeria, in order to achieve and sustain the development goals."
"This is why we have the Human Capital Development Project, which is a global project which aims at first, articulating the development challenges that the country face in terms of achieving the SDGs , then ensuring that the government tries to raise domestic revenue in order to finance the gap but because the gap cannot be funded by the World Bank alone.
"What we can do is to help bring the knowledge as to how effective the different programmes can be for a greater impact.   Our financing has to be used as a leverage for other finances to come in.
"Let me give you the case of Nigeria.   Nigeria's (FG) domestic revenue mobilization is less than 6 per cent and add other internally revenue mobilization of the states it totals 9 per cent of GDP.
"The development gap, whether in infrastructure transport, power, health or education is huge.   So it is important that we work with government in the area of domestic revenue mobilization.   The ERGP of the government is at the forefront of the domestic revenue mobilization as an important part of responding to the development challenge.
"Yes, the World Bank Group can help but Nigeria is better placed to help itself and we can provide the support role."