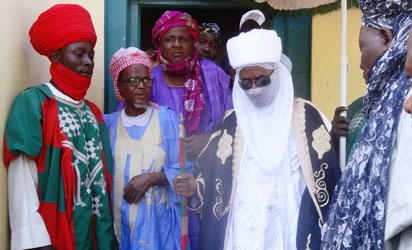 The emir of Kano, Muhammadu Sunusi II (C), visits the central mosque in northern Nigeria's largest city of Kano on November 29, 2014, a day after twin suicide blasts hit the mosque during weekly Friday prayers. At least 120 people were killed and 270 others wounded when two suicide bombers blew themselves up and gunmen opened fire during weekly prayers at the mosque, a week after the emir of Kano, Muhammad Sanusi II, of one of Nigeria's top Islamic leaders called on northerners to defend themselves against Boko Haram Islamists that have been carrying out deadly attacks and seizure of territory in the northeast. AFP PHOTO
By AbdulSalam Muhammad
KANO – Governor Abdullahi Umar Ganduje of Kano state has appointed the emir of Kano Muhammad Sanusi II, to chair the newly inaugurated Kano Investment Advisory Committee.
The governor hinted that the overall wisdom behind the Committee was to identify strategies for making the state economically viable.

He said "we also need to take the advantage and as well exploit the personality of the Emir, personality around the globe for growth and development of Kano."
Ganduje added that sometimes it could be difficult to separate between investments and personalities, "…hence our resolve to work with the Emir," he said.
ThevSunusi II committee was asked to unlock constraints that hinder the progress of the economic potentials of the state, and as well facilitate the inflow of foreign and domestic investments.
The committee was further directed to work with the federal and state governments in addressing concerns that impede the economic progress of the state.
Ganduje further assured that, the state government would do everything possible to make ensure that committee's work was integrated with the policy direction of his administration.
He assured that, Government would work with the private organisations and other relevant organisations to enhance the economic viability of the state.
The Committee's work was also extended to advising government on the best practices in the economic development of the state, coupled with submitting periodic reports to government.
On his part, the Emir of Kano assured the governor that they would discharge their given responsibilities with all sense of responsibility and ownership. He also commended the governor for the good initiative.
Members of the committee were drawn from the business community, government agencies and the Emirate Council.