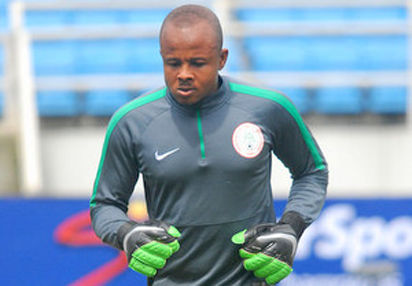 Ezenwa
BY GABRIEL ENOGHOLASE
BENIN – A football lover and a Benin Palace Chief, James Ezomon, the Ezomon of Benin Kingdom, has appealed to Nigerians to leave Super Eagles number one goal keeper, Ikechukwu Ezenwa who is recuperating from injury alone, saying that , "you don't change a winning team"
In a statement in Benin yesterday, Chief Ezomon said if the goal tender is left alone in peace and not distracted, he well be hale and healthy for the World Cup which comes up in June, 2018.
He said, "At the news that Nigeria has qualified for the World Cup, the spirit of greed has risen from all corners. Those who have retired from International soccer and pofessionalism are now consulting soothsayers in every way for possible return to the team.
" Firstly, which World Cup are you going to win when we cannot even win the nation's cup? Cameroun has won the nations' cup five times, and we just won the Nation's cup three times. Rohr had fought tooth and nail to see that he qualifies the Super Eagles for the World Cup, kudos to him.
"But why must you now change a winning team because of witch hunting from all corners. God saves our number one goal keeper, Ezenwa and may he not even die"
He wondered why Nigerians were breathing out greed from all their warehouses of evil against Ezenwa, adding that the sins of the goalkeeper was that he helped to qualify Nigeria for the World Cup and called on Nigerians to stop witch hunting him.