By Emma Ujah, Abuja Bureau Chief
ABUJA—The suspended Director-General of Securities and Exchange Commission, SEC, Mr. Mounir Gwarzo, paid 44 members of staff of the commission N1, 703, 724, 840.32 severance package, in what was termed "Golden Handshake" in 2015, it has emerged.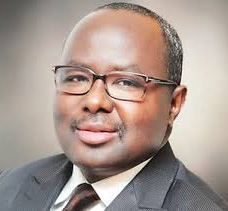 Presidency sources revealed that the huge payout was not contained in the 2015 budget of SEC and he did not obtain approval from either the board or Minister of Finance, who supervises the commission.
It was learned that the payments were in breach of financial guidelines in the public service, as all expenditures have to be budgeted for and the budget approved by the National Assembly.
Two directors benefitted from the "golden handshake." One was paid N85.316 million, while the other was paid N84.650 million.
Twelve deputy directors, who also benefitted from the handshake received an average of N70.5 million, each. Assistant directors, who were five in number, got an average of N46 million each.
Sources said documents received by Administrative Panel of Inquiry also detailed how Outbound Investments Limited, a company in which Mr. Gwarzo is said to be a director, was awarded several contracts by SEC, while he served as D-G of the commission.
The suspended D-G is said to be one of three directors of the company.
An analysis of transactions between the company and SEC indicated that Outbound Investment Limited was a diesel supplier to the commission.
It was learned that Gwarzo tendered a letter through which he claimed to have resigned as a director of Medusa Investments Limited, another company in which he co-founded before the Administrative Panel of Inquiry, which handled his case.
The letter he tendered showed that he resign his position as a director on December 19, 2012.
However, in the course of investigations, the panel, it was learned, obtained a letter written by Gwarzo on July 24, 2015, to Medusa's bank requesting for a replacement of the Account Officer.
He was also said to have written another letter on August 16, 2016, requesting that Naira Mastercards be issued on Medusa Investments Limited's account for him and one other person (name withheld), which contradicts his resignation claims.