The President of the Senate Dr. Bukola Saraki has called on states of the federation to emulate Kwara state and stop payment of pensions to former governors still holding elective or appointive positions.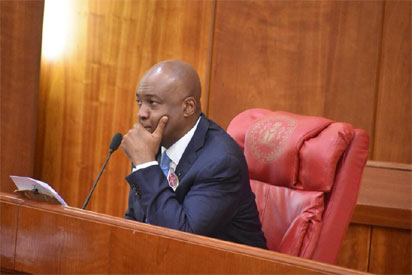 This is even as he commended the Kwara state House of Assembly for passing the bill to stop payment of such pensions.
Saraki in a series of tweets on his handle, @BukolaSaraki said that he was indeed happy that the the chat he had with the Assembly Speaker, Ali Ahmed, had resulted in the passage of the bill.
In 2017, the Senate's President had said that he already directed the state government to stop paying him pensions adding that he had refunded those that he had collected earlier.
I am happy that following my conversation with Kwara Speaker, @HonAliAhmad, two months ago, the Bill to suspend the payment of Pension to former Governors and their Deputies when they hold a Political or Public office was passed into law yesterday by the Kwara House of Assembly.
Moving forward, it is my hope that other State Assemblies take a cue from Kwara State and pass similar pieces of legislation into law.
The Kwara State House of Assembly on Tuesday passed an amendment bill halting payment of pension to former governors, deputy governors and other officers holding political offices after their tenure in office.
The passage of the bill followed the consideration of the report of the House Committee on Establishment and Public Service at the Committee of the Whole House sitting in Ilorin. The motion for the passage of the bill was moved by the Deputy House Leader, Segilola Abdulkadir and was unanimously adopted by members.
The Deputy Speaker, Matthew Okedare, who presided over the plenary, directed the Clerk of the House, Alhaji Mohammed Katsina, to prepare clean copy of the bill for governor's assent.
The bill, which was forwarded to the House by Gov. AbdulFatah Ahmed, sought to review the existing law where payment of pension for former governors and deputy governors after their tenures would be suspended.
NAN