Governor Ayodele Fayose of Ekiti has showered praises on security operatives for their prompt action in preventing breakdown of law and order in Ipao Ekiti.
In his tweet on Tuesday, Fayose said that one Mr Olayemi Tunde was reported killed by herdsmen on Sunday in the town,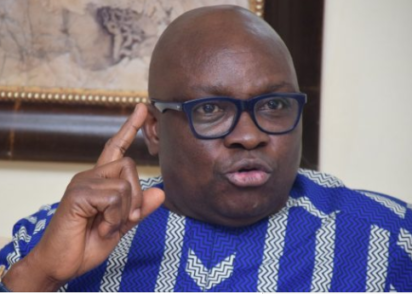 "Today, I visited Ipao Ekiti where one Olayemi Tunde was killed by suspected herdsmen on Sunday.
"I appreciate the prompt response of security agencies – army, police, DSS, Civil Defence and the local hunters to preventing further breakdown of law and order in the town.
"It is my promise that those who killed Olatomiwa will be fished out and punished.
"Consequently, I have directed the setting up of a committee to look into the immediate and remote causes of incessant attacks in Ipao Ekiti by suspected herdsmen and other surrounding towns.
e said that in Ekiti State under my watch, "you cannot kill human being and go scot-free''.
"We will protect every law abiding residents of the State, including Fulani herdsmen and their cows,'' he said.
NAN