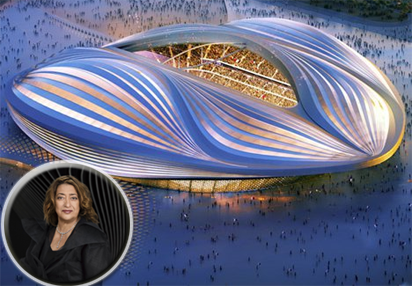 Al-Wakrah Stadium Inset: Zaha Hadid
The Qatar World Cup venue designed by celebrated Iraqi-British architect Zaha Hadid will be finished by the end of 2018, officials responsible for the project said Tuesday.
The 40,000 capacity, $575 million (465 million euros) Al-Wakrah Stadium is expected to be one of two further 2022 venues completed this year.
Building work on the 60,000 Al-Bayt stadium is also expected to be completed by December.
If so, it will mean Qatar — which is spending almost $500 million a week on World Cup projects — will have built almost half of its proposed eight venues with four years still to go to the tournament.
The Khalifa International Stadium, also the venue for the 2019 World Athletics Championships, was completed last year.
"We will be finishing hopefully by the end of this year and then ready to use," Thani Al-Zarraa, Al-Wakrah's project manager said.
One of the major tasks ahead is to fit the stadium's distinctive retractable roof — meant to resemble the sails of a traditional dhow fishing boat — comprised of some 1,400 pieces, which will be pre-assembled in Italy, then shipped to Qatar.
Once completed, 2022 World Cup officials will trial the stadium with "test matches" including potential international friendlies, said Zarraa.
Al-Wakrah will be used during the World Cup for games up to and including quarter-finals.
It was one of Hadid's last major designs before her death in March 2016, aged 65.
Major works by Hadid include the Guangzhou Opera House in China, the Bergisel ski jump and the aquatics centre at the 2012 London Olympics.