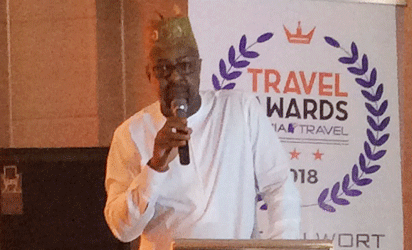 Folorunsho Coker, DG NTDC
…as Jumia Travel recognises best hospitality, travel performers for 2017
Director-General of Nigerian Tourism Development Corporation, NTDC, Folorunsho Coker, has called on Nigerians to promote domestic tourism by looking inwards and growing the nation's tourism policy to enable the sector realize its full potentials.
He made this call while delivering the keynote address at the Jumia Travel Awards 2018 which held on Thursday at Pearlwort Hotel and Suites, Ikeja.
In a speech titled Exploring the Potentials of Travel Industry in Nigeria, Coker stressed the need to market, promote and bring the world to Nigeria using the numerous tourist attractions in the country.
According to Coker, tourism generates over $10.8 trillion globally and Nigeria must be ready to invest in tourism assets to attract tourists and partake in the benefits that abound in the industry.
Speaking further, he submitted that to make tourism attractive in Nigeria, certain steps must be taken. He listed these steps as: reviewing laws that don't go along with recent trends in the industry; training personnel to understand how the industry works; putting infrastructure of tourism in place by investing in tourism assets; producing tourism events to international standard and doing away with bureaucratic bottlenecks that hinder access to finance meant for promoting tourism in the country.
The high point of the event was the presentation of awards to best performers in the hospitality and travel industry for the year 2017.
Some of the winners include:
Epe Resort– Traveler's Choice Award
Golden Tulip– Favorite Hotel in Lagos Award
Air Peace– Best Local Airline
Emirates– Best International Airline
Eko Hotel and Suites– Best Business Hotel
Jumia Travel is active in over 40 countries in Africa, with 200,000 hotels worldwide and 10,000 in Nigeria.