By Chioma Obinna
Nigerian private medical doctors have raised the alarm over the state of healthcare in Nigeria, saying "the promised Eldorado of Universal Health Coverage by the Federal Government has remained a mirage."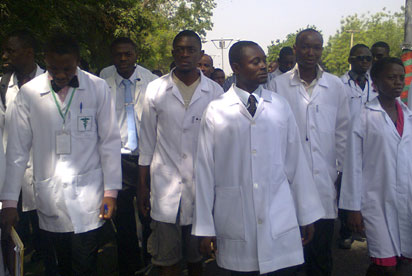 The doctors observed that coupled with  ineffectiveness of the National Health Insurance Scheme, NHIS, budgetary allocation to health has become thinner and reduced disposable out of pocket income of patients.
The doctors under the auspices of Association of General Private Medical Practitioners of Nigeria, AGPMPN, alleged that the challenge has been compounded following sharp practices by some Health Management Organisations, HMOs,  robbing the private institutions of patients.
Speaking during the National Executive Committee, NEC, of AGPMPN in Lagos, the President , Dr. Omo-ehijele Frank Odafen said policy sumersaults have become the bane of the Scheme.
"Things are happening too rapidly at the Scheme currently. The recent recall of the suspended Executive Secretary, Prof. Yusuf, and the yet to be re-constituted Board members will surely lead to policy reversals and emergence of new ones.
"For instance, the dissolved consortiums of insurance brokers and underwriters may be reinstated. The NHIS/HMO schism may be resurging. Ultimately, we hope AGPMPN and the Nigerian masses will be the beneficiaries," he stated.
He lamented that the NHIS was established to provide Universal Health Coverage to the Nigerian masses unfortunately; only 4 percent has been covered by the scheme.
"The objective of NHIS is to offer quality healthcare delivery to Nigerians irrespective of their political inclination, social-economic standing and irrespective of their geographical environment that there should be equity and social justice in quality healthcare delivery, which is what NHIS stands for, but we know so far that we have not met up to that.  Several years after its inception, there is still a foul cry, they have only covered about 4 percent of the population and only in the formal sector.
Continuing, Odafen who also spoke on how the insurgency in the North East and North Central was affecting their practice said many of their members have been displaced and have had to abandon their practices because of Boko Haram and herdsmen/farmers clash.
On the issue of communicable diseases outbreak, Odafen who recognised that doctors are gatekeepers of the health sector, said while call government to scale up robust campaigns as regards these deadly diseases, medical doctors must endeavour to protect themselves by following standard protocols.
"We urge the Federal and State governments to provide the necessary kits to private hospitals personnel, particularly in areas of known and potential endemicity."
We pray God to save us from harm's way always.
On the mass failure of the foreign-trained doctors at the qualifying exam for licensing by the Medical and Dental Council of Nigeria, MDCN, urged their members to be firmly behind the Ag. Registrar of MDCN, Dr. Sanusi, as he stands tall to give the medical profession the dignity it deserves.
"We must not allow the politicisation of a purely professional venture such as medical examinations. We must join the call for the Federal Government to, as a matter of urgency, reconstitute the board of MDCN.