By Evelyn Usman
The Lagos State Police Command has smashed a notorious trans-border robbery gang, whose members come from the Benin Republic to snatch exotic cars from Nigerian motorists and take same to Cotonou , where they are sold at give away prices.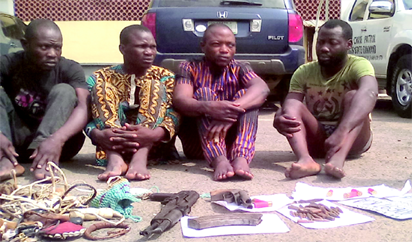 Arrested were four members of the gang, including a herbalist who confessed to be preparing charms for the gang.
Three members of the gang— Ajagba Hammaed, 30; Tobinju Potel, 35, and Botan Remmy, 30— were arrested along the Mile-2/Badagry Expressway while on a mission to snatch vehicles in Lagos State.
Recovered from them were one AK-47 rifle with serial number PE-2473; 43 AK-47 live ammunition; one locally-made cut-to-size double barrelled gun; six live cartridges; one car number plates (JD 697 KJA) and assorted charms, which they used for protection against gunshot.
Preliminary investigation revealed that the gang members had been operating in Lagos State for close to two years. One of its operations was carried out at Ajose Adeogun, Victoria Island area of Lagos, on January 20, where they snatched a Prado Jeep with number plates ABC 853 LK from one Olayinka Oyebola.
Parading the suspects alongside 10 others arrested in one week, the command boss, Imohimi Edgal, explained that Oyebola had gone to withdraw some money from an ATM gallery, when he was accosted by the gun-wielding robbers.
He said: "When he (Oyebola) was through with the withdrawal, he entered his car but before he could drive off, the criminals who had been stalking him, intercepted him, pointing their guns menacingly at him.
"They forced him out of the driver's seat and dragged him to the rear of the car. He was dispossessed of his phone, laptop and N45,000.
"The gang also stripped him naked and drove him to Ajah/Epe Road, where he was thrown out of the car."
Same day, the trio of Ajagba Hammaed, Tobinju Potel and Botan Remmy, as gathered, drove to Ikoyi area where they parked the stolen jeep beside another Prado jeep belonging to one Engr. Fidel Onwodi, who was with his wife.
The unsuspecting couple, who were buying beef barbeque popularly called suya, were ordered at gunpoint to sit at the rear as the gunmen drove off with them.
However on the way, Engr. Onwudi's wife jumped out of the moving car, while the robbers continued the journey to the Third Mainland Bridge, where they dropped off her husband.
The CP stated that they went away with Engr. Onwodi's jeep, but abandoned the first one at Babatunde Cresent, Oniru area of Victoria Island, where it was recovered by operatives.
Our choice of cars—Gang leader
Leader of the gang, Ajagba Hammed, during investigation said: "Our choice of cars are Hilux, Toyoda Highlander and Prado and our target areas are Okota, Victoria Island and Ikoyi.
"These cars sell fast in Cotonou. Had we listened to the herbalist, perhaps we would not have been arrested.
"We came into Nigeria that fateful day. At Mile 2, I told the herbalist to carry out a divination on whether the operation would be successful, but when he did he warned us not to do anything on that day that the road would not be smooth.
"We did not heed his advice because we said he ought to have warned us before we left Cotonou. Barely had the herbalist left for Cotonou than we were arrested."
I smuggle their weapons into Lagos—Herbalist
On his part, the herbalist, Rasheed Akiola, disclosed that he usually helped the gang to smuggle its weapons into Lagos.
He said: "There are bush paths through which you can enter into Lagos from Benin Republic.
"Whenever the gang was going for operation, they would give me their bag which contain their weapons to take to Mile 2.
"I prepare some charms anytime I am bringing the weapons, to prevent any security agent from looking my way.
"I would wait for them at Mile 2, hand the bag to them before going back to Cotonou. I also prepared charms to fortify them against gun.
"Each of them has four different charms. But on the day they were arrested, I warned them not to go. The total amount I have received from them is N71,000."
Other gang members also admitted to the crime. They revealed that the value of one of the Prado jeeps that was snatched was N32 million, but that it was sold for N3 million in Benin Republic.
Investigation, according to Edgal, was still ongoing. He added that the suspects were helping operatives with information that will help in the recovery of one of the stolen Prado jeeps that is still in Cotonou, as well as the arrest of other members of the gang.