The Nigeria Police has assured the Peace Corps of Nigeria (PCN) of unsealing its headquarters before the next sitting of the investigative hearing by the House Committee on Public petitions.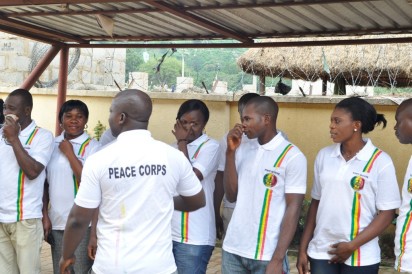 The Commissioner of Police, FCT Command, Sadiq Bello, was said to have given the assurance through a phone conversation with the National Commandant of PCN, Mr Dickson Akoh in Abuja.
Akoh, addressed newsmen when he led the PCN officials to the Corps' premises in Jabi, demanding for the office to be opened.
Tthe Coalition of Civil Society Organisations for Justice and Equity, had on Jan. 25, petitioned the National Assembly, accusing the police of disobeying subsisting court order in favour of the Peace Corps.
The House of Representatives Committee on Public Petitions directed the police to vacate the headquarters of the PCN, which has been under lock and key since Feb. 28, 2017.
Akoh lauded the Police for approaching the matter in a civil way, saying this was the first time the police was speaking with them respectfully.
"Since they have for the first time spoken to us in a very humane manner, we will not disrespect superior order, we respect constituted authority and in that spirit we will leave.
"The CP has intervened and we will disengage because we are peaceful people and their approach was very civil.
"If this matter had been handled this way by the then CP, engaging and discussing with us, it would not have got to this level," he said.
Akoh appealed to the Federal Government to accent to the PCN Bill, which had passed second reading at the National Assembly and forwarded to the President for accent since January.
The Bill, he said, would alleviate the suffering of some young Nigerians seeking employment, adding that the Peace Corps will focus on gathering intelligence for security especially at the community level.
Akoh appealed for the urgent intervention of President Muhammadu Buhari, as the office was on an annual rent of N13.5 million, which had lapsed without being used.
The convener of the civil society organisations, Mr Olayemi Success, stressed the need for every institution of government, especially the police, to obey court orders.
The next sitting of the investigative hearing by the House Committee on Public Petitions, on the petition filed by the coalition of civil society organisations for Equity and Justice will be on Feb. 27. (NAN)
Subscribe for latest Videos