By Esther Onyegbula
The Lagos State Police Command has arrested a man and his wife for running a baby factory at Igando area of Lagos.
According to Lagos State Commissioner of Police, CP Imohimi Egdal, the suspects, Adeola Adebayo; 50 and Rita Adebayo; 40 were arrested for harboring pregnant women and selling their babies without their consent.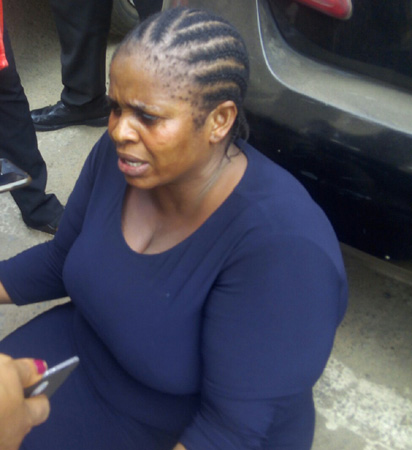 "Following information given by members of the press on the operation of a baby factory at No. 1, treasure palace road, Ikotun/Igando. The police swung into action and Adeola Adebayo with his wife, Rita Adebayo were arrested. Three victims who were pregnant were also rescued.
"They harbour young pregnant girls till they give birth and take their babies away. The information we got is that they sell  their babies without the consent of the mothers." he said.
Suspects account
Mrs. Adebayo who hails from Ohafia LGA in Abia State but married to a Lagosian denied the allegation saying she had only one pregnant woman who is her son's wife living with her.
Adebayo said she owns a shop where she sells provision and drinks in wholesale saying the allegation is the handiwork of detractors.
The 40 year old woman said her husband's family – Osumba Family- had a protracted land dispute with the Bekunimaba Family in Igando and that it is the Bekunimaba family that is using the police against them.
In her words, "I am a business woman who runs a shop. I have an 18 year old son who had impregnated a girl who now lives with me. The girl has two children already. My son is far away in Cameroon. The other ladies who they are saying were found in my house do not live with me. One of them is a girl that was brought to me by my sales person when I told her I needed another salesperson. On noticing she was pregnant, I objected to her working with me. She then told me she had a family crisis as her husband was constantly abusing her. She begged me to help her and out of sympathy I pleaded with my sister to allow her stay at her place. The children who were found in my house are my grandchildren. I believe this whole story of a baby factory emanated from the Bekunimaba Family who are having land dispute with my husband's family."
A police source who also went on the raid of the said baby factory had   spoken with our correspondent in confidence. He said the suspects own the house where they carried out the atrocities. He disclosed that the suspects had been running the illegal orphanage since 2006, saying the police found just a child of about five years old in the house and the three pregnant women.
Victim's account
One of the victims, Favor Osikweme; 19, who is six months pregnant told pressmen that he was introduced to the baby factory by her friend called Lepa.
"Although I was not told it is a baby factory. I was staying with my friend called Lepa when she told me that her place is too small and will take me to where I will deliver my child. I have been there since Dec. 2017. The woman told my mum that am working with her but we didn't negotiate about payment for my child." she said.
Another rescued victim, Precious Emmanuel said that she was worried after getting pregnant for foreigner and was introduced to the baby factory by her sister.
"I was taken to the woman by my sister after getting pregnant for a foreigner. The woman then promised to settle me as soon as I deliver my baby." she said.