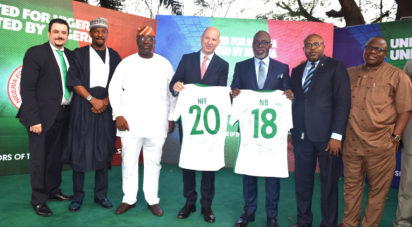 Mr Amaju Pinnick, President, Nigeria Football Federation (third right) and Bel (fourth left), with NFF 1st Vice President Seyi Akinwunmi,(third left); 2nd Vice President Shehu Dikko (second left), Maria Maggi (left), Itemuagbor (right) and Kufre Ekanem, (second right). Corporate Affairs Adviser, NB PLC at the signing agreement of N2.5B deal between Nigeria Football Federation and Nigeria Breweries PLC
The Nigeria Football Federation (NFF) and Nigerian Breweries PLC have signed a sponsorship agreement in Lagos on Friday.
The Pamodzi Sports Marketing Company, a marketing agent for NFF confirmed that the initial contract is for a period of five years with an option for renewal.
The Chief Executive of the company, Mike Itemuagbor, said that such sponsorship deals are good for the development of football in Nigeria.
"This is a very good deal for the NFF and the National Teams. Nigerian Breweries PLC is committing a huge sum to this sponsorship agreement.