By Innocent Anaba
LAGOS—Wife of former President Goodluck Jonathan, Dame Patience, has asked the Federal High Court in Lagos to strike out an ex-parte application by Economic and Financial Crimes Commission, EFCC,  seeking temporary forfeiture of her $8,435,788.84 and N7.35 billion.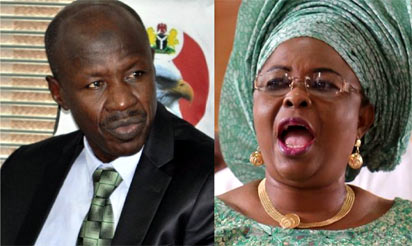 She is also praying the court for an order striking out the motion filed last December 13 on the ground that the court lacks jurisdiction to hear it.
Mrs Jonathan said the EFCC's motion was "a gross abuse of court process" because the issues were already pending before Justice Binta Nyako of the Federal High Court in Abuja.
"The ex parte originating summons filed by the EFCC amounts to forum shopping, thus an abuse of court process," she said.
Meanwhile, hearing was stalled in the case, yesterday, due to Justice Olatoregun's absence, but the case was adjourned till tomorrow.
Through her lawyers, Mr Ifedayo Adedipe, SAN and Chief Mike Ozekhome, SAN, Mrs Jonathan said the same application had earlier been filed by the EFCC before Justice Mojisola Olatoregun of the court's Lagos division, upon which it had obtained an ex-parte order.
She said the same application was before Justice Nyako "over same parties to be affected by this same application."
The former first lady said EFCC allegedly failed to disclose the different suits and orders made prior to filing the application before Justice Olatoregun in Lagos.
"The respondent is making great mockery of this judicial system and by extension this court," Mrs Jonathan said.