Peoples Democratic Party (PDP) chieftain, Chief Sunny Onuesoke, has commended  the plan of Governor Abdullah Umar Ganduje to bring peace to the Middle Belt by asking  Fulani herdsmen to relocate to Kano.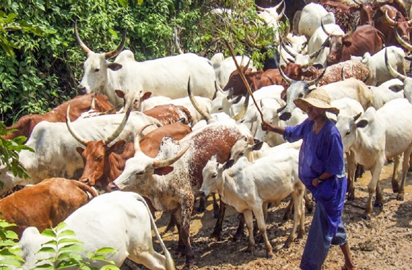 Onuesoke, while addressing    journalists in Kano, pointed out that    the pronouncement  of the governor revealed that he was sincere about finding solution to the herdsmen's menace.
Onuesoke, a former PDP governorship aspirant in Delta State, wished that the Federal Government and other northern states will follow the step of the Kano governor. "This is the most sensible thing I have heard from a far North governor on this issue. Besides Kano, there is enough space in Sambisa forest that can accommodate as many Fulani herdsmen as you can ever imagine", he said.
"Buhari should learn from this and liaise with Ganduje to start evacuating herdsmen and their cattle to Kano. Other states in the far North should also emulate the Kano governor's gesture. In this modern era, long distance grazing of cows, which causes conflict, is unfair to the animals and their herders."