By Nwafor Sunday
The Special Adviser to President Muhammadu Buhari on Social Media, Lauretta Onochie has on Saturday replied those with contrary view on Tsaigumi, saying that they should substantiate their claims with evidence.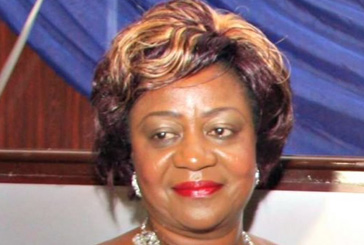 Recall that Pastor Reno Omokri, yesterday lampooned the current administration for the unveiling of Tsaigumi in Kaduna, which he claimed had been unveiled in December, 18, 2013 by Jonathan's administration.
Expressing discontent in Buhari's government Omokri classified the current administration as a 'Dishonest administration', noting that 'they' equally want to lay claim to other infrastructure and achievements of the Jonathan government.
In view of the above statements, Onochie replied Buhari's critics via her tweeter handle and challenged them to come out with evidence to prove their points.
She equally reeled out ongoing projects by the federal government in order to contradict the position of Omokri who had said that 'the current administration is trying to claim Jonathan's achievements'.
The projects include:
Rehabilitation of Agbor-Sakpoba- Ogharefe road, section 111 (Alihami Spur to college of Education, Agbor) Delta state, Contract No. 6093.
Secondly, Nigeria Ports Authority Revenue (2013 – 2017)
2013 – 154.50 Billion Naira
2014 – 159.30 Billion Naira
2015 – 180.50 Billion Naira
2016 – 162.20 Billion Naira
2017 – 299.56 Billion Naira
Again the dualisation of Sapele-Ewu road in Delta, section 1: (Sapele- Agbor), Contract No. 6249.
Similarly, she equally presented an update from Operation Lafiya Dole
3745 rescued from captivity
186 insurgents killed
1000 insurgents surrender or captured
93 surrendered to Nigerian troop
250 surrendered to Defence Force
85 Armored vehicles recovered
49 gun trucks recovered
36 pick-up van
14 IED Borne Vehicles
Onochie again, said that under Buhari, Foreign reserves increased from 22b dollars to 42.8b dollars. Out of it she said, under the CBN ABP N55b was disbursed to farmers nationwide which then translate to bumper harvest of 15 million metric tonnes of Rice in 2017 alone.
However, she concluded by saying that "a nation sacked its President for corruption, another nation wants its President sacked for fighting corruption. What a paradox! The Tragedy of a desperate opposition that wants the return of corruption to Nigeria", she finally said.