A non-governmental organization, Olugbenga Akintola Foundation, has urged Nigerians to stop self-medication and consult medical experts whenever they feel any symptoms of ill health.
This was made known yesterday at a free health programme organised by Olugbenga Akintola Foundation, held in Osogbo.
Speaking at the event, the convener, Architect Olugbenga Akintola said the programme was organized for the benefit of the masses, adding that government alone cannot do everything.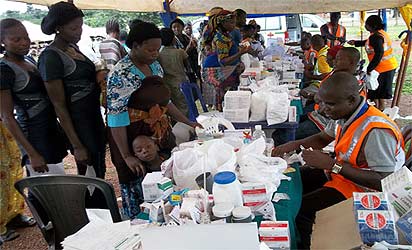 He also mentioned that the foundation has a Micro-Finance Initiative which has been going round the state to put an end to poverty and help small businesses and artisans develop their trade.
On his part, Dr Babatunde Samuel, who is one of the team of experts treating participants, said the programme is a good idea, especially at this economic crunch period when people do not bother to check up on their state of health.
While some Beneficiaries of the programme among whom are: Mr Ajirowo Akeem and Mrs Folashade commended Olugbenga Akintola Foundation for their kind gesture and prayed God to give the Foundation more strength.
Hundreds of participants benefited from the programme which is expected to be replicated in Iwoye-Ijesa soon.