By Nwafor Sunday
The National Coordinator APGA Media Warriors Forum, Evang Chinedu Obigwe, Monday, swanked about Willie Obiano's achievements in the state, noting that the Governor's second term campaign promises will turn Anambra state to the New York of Nigeria.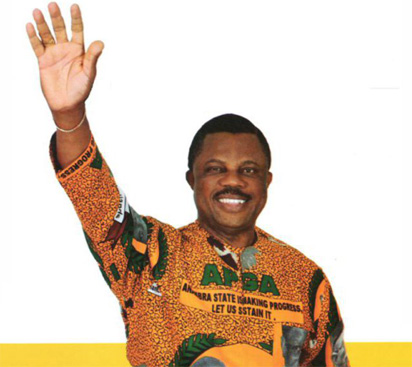 Obigwe disclosed this in Awka via a statement he issued to newsmen.  According to him, "Governor Obiano is willingly working to ensure that Anambra state stands first among the best states in the country."
While commending Obiano for his achievements and constant visits to the ongoing projects in the state, Obigwe opined that Obiano's nickname has swallowed his real name like the recent fable in Nigeria.
In his words, "Obiano's working nickname, 'The Alert Governor', 'The Willingly Working Governor', has swallowed his real 'Chief Dr. Willie Mmaduabrochukwu Obiano'.  Nobody remembers his real name anymore. I thank the Governor for his determination to ensure the complete asphalting of 40 roads before the rainy season.  Again his constant visits to the project sites is worthy of commendation", he said.
He further said that Anambra people will remain eternally grateful to the Governor for redefining governance in the State.
Obigwe advised the people of Anambra State to continue giving the Governor an undiluted support as an encouragement for his efforts to transform the State.
He finally reiterated his alleged earlier call on the Federal government to reimburse Anambra State Government the 43billion they spent on Federal roads across the State to enable the State Government channel the money to other developmental initiatives for the benefit of the people.