Nigerians on Saturday paid tributes to  renowned playwright, culture activist and scholar, Akinwunmi Isola, who died on Saturday in Ibadan.
Newsmen report that Isola,  who is renowned  for his work in promoting  the Yoruba language, died at  79 years.
Mr Toye Arulogun,  the Oyo State Commissioner for Information, Culture and Tourism,  in an early reaction described the news of Isola's death as a rude shock, saying the state government would soon react.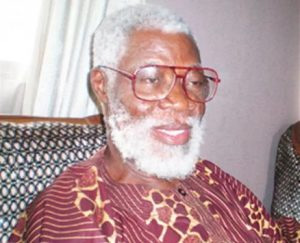 Dele Odule, a renowned actor, also  told newsmen that the late Isola lived a fulfilled life, adding he did well as teacher, actor and playwright.
"Death is natural and I don't think there is anyone who will not die. Isola died at a ripe age and left a legacy of excellent performance in all he did. He was very relevant to his generation," he said.
A socio-cultural group, Yoruba Youth Socio-Cultural Association(YYSA) described Isola's death as a monumental loss.
The group,  in a statement signed by its National Secretary, Olawale Ajao,  said Isola was one of the most respected Nigerian writers.
"Isola was extraordinarily gifted in imaginary literalism, a cultural icon and a renowned teacher who impacted morally, culturally and socially on the lives of Nigerian youths," it said.
Society writer and publisher of Ovation Magazine, Mr Dele Momodu, said: " Sad to receive the news that Nigeria has lost the legendary writer Prof. Akinwunmi Isola, my former lecturer and  supervisor; author of O Leku  and Efunsetan Aniwura and others…..Rest in Peace Sir.''
Newsmen report that Isola was born in Ibadan  in 1939 and  attended Labode Methodist School and Wesley College,  before proceeding to the University of Ibadan where he  earned  a B. A. in French.
He also bagged  an M.A. in Yoruba literature from the University of Lagos  in 1978 before commencing academic work as a lecturer at the Obafemi Awolowo University, Ile-Ife, where he was appointed professor  in 1991.
Isola wrote his first play, Efunsetan Aniwura,  between  1961 and 1962 while  still a student at the University of Ibadan.. This was followed by the novel, O Leku,  which was turned into a movie. He also wrote a play entitled,  Olu Omo,  published in May 1983 by Onibonoje Press & Book industries (Nig.) Ltd.
In 1986, he wrote and composed the college anthem  for   Wesley College, Ibadan.
Since then, he had  written a number of plays and novels. He also ventured  into broadcasting, creating a production company that has turned a number of his plays into television dramas and films.
In  recognition of his immense contributions to literary production, he was in 2000 awarded the National Merit Award and the Fellow of the Nigerian Academy of Letters. He was also visiting professor at the University of Georgia.
The late scholar was married and had four children.
NAN