Catholic Bishop of Sokoto Diocese, Most Rev. Matthew Kukah, has said fighting corruption and fixing Nigeria required more than a God-fearing leader.
Kukah said this, Tuesday, at the launch of a book, entitled 'The Shadow List' written by Dr Todd Moss.
He said to fight corruption and build the nation was not just about goodwill but about getting to the root of the matter and tackling it head-on.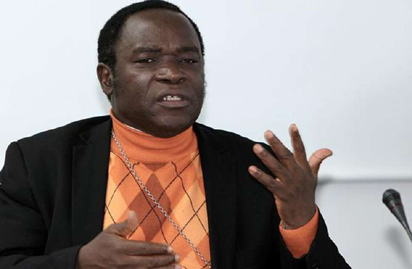 He said: "I have said it severally; let Nigerians keep saying they want a God-fearing leader.  Nigeria does not need a God-fearing leader, because God-fearing has become an excuse to appeal to Nigerians and win elections.
"Governance in Nigeria is a criminalized enterprise and a criminalized state cannot progress; so, we must come to terms as to why this country is in such low portion.
"Fixing this country requires much more than that; national cohesion, holding our country together is the most fundamental project if we are to fix this nation.
"This is what we need because I am aware of how angry and frustrated Nigerians have become, especially in an environment where people are intrinsically not concerned about corruption."
Kukah said it was wonderful to talk about fighting corruption but that Nigerians could not fight it if they had not diagnosed the environment "as to why and how about corruption."
He said it was sad that Nigerians were always excited about a new administration but noted that the excitement never lasts because bad governance often set in.
He said nobody would have imagined that three to four years down the line, Nigerians would be feeling the way they were feeling now.
He said: "If you know Nigerians well, rather than thinking about the solution to the problem, we are waiting for a few men who govern Nigeria to tell us they have found a silver bullet and then we all gather around.
"We will now pass through the motion pretending to be conducting election when as it is from 1999, we always have an idea of who the president will be, even before the election is conducted."
He said quite a number of Nigerians had decided to make peace with the situation because they had decided that "the building called corruption is too big for them to break down."
He said unless the building or system, which was not serving the people of Nigeria was broken down, citizens, whether Christians or Muslims, would continue to feel the way they were feeling.