Hans-Joachim Watzke, who helped save Borussia Dortmund from bankruptcy in 2005 and put the Bundesliga club on the road to rude financial health, has extended his stay as chief executive until 2022, it was announced Tuesday.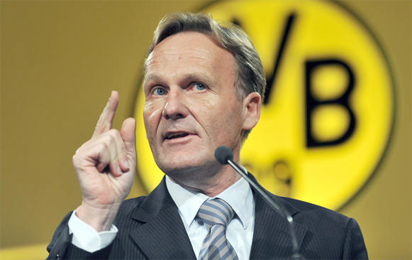 Watzke, 58, has signed a four-year extension alongside Thomas Tress, Dortmund's chief financial officer.
"Borussia Dortmund's sporting and economic success since 2005 is directly linked to the work of Hans-Joachim Watzke and Thomas Tress," said club president Reinhard Rauball in a statement.
"They have a tremendous bond of trust that has grown in the past 13 years.
"We want to express this confidence in their abilities and their day-to-day commitment early by extending the contracts."
Alongside Tress and Rauball, Watzke, a trained lawyer, stepped in to help Dortmund secure loans in the face of massive debts in 2005.
The trio rescued the club from the brink of bankruptcy after over-spending on players had drained the coffers.
Currently, Dortmund are in robust financial health, especially after selling Ousmane Dembele to Barcelona in August for 105 million euros ($124 million) and striker Pierre-Emerick Aubameyang to Arsenal for £56 million ($78 million) last month.
Transfers aside, the Borussia Dortmund group posted a record return of 405.7 million euros for the 2016/17 season.
– Klopp the key –
It was the recruitment in 2008 of coach Jurgen Klopp, orchestrated by Watzke and director of sport Michael Zorc, which sparked Dortmund's recent success.
Klopp developed the squad which won 2011 and 2012 Bundesliga titles, famously hammering Bayern Munich 5-2 to win the 2012 German Cup, then reached the 2013 Champions League final.
However, Dortmund's fortunes dipped after Klopp left in 2015 and eventually joined Liverpool.
Dortmund won the German Cup last season under Klopp's successor Thomas Tuchel, but he was dismissed after a disagreement with Watzke.
Tuchel's replacement Peter Bosz lasted only a few months before he was sacked in December after Dortmund failed to win in eight league games and were eliminated from their Champions League group.
They are currently third in the Bundesliga table, 19 points behind runaway league leaders Bayern Munich, under Austrian coach Peter Stoeger.
One of the challenges facing Watzke is to bring the club's hooligans into line after the German FA (DFB) fined Dortmund 50,000 euros on Tuesday for four incidents of misbehaviour by fans.
Dortmund hooligans set off flares, which interrupted the German Cup match at Magdeburg and also affected Bundesliga games against Schalke and Hertha Berlin this season.
The fine also includes Borussia fans throwing cups of beer at Schalke's coaching zone and goalkeeper Ralf Faehrmann during the 4-4 draw at Dortmund in November.
AFP
Subscribe for latest Videos