By Harris-Okon Emmanuel
UYO—The people of Mbiabam in Ibiono local government area of Akwa Ibom were on  Monday thrown into mourning when a Vulcanizer identified as Nkere Uta killed his wife, Bella in cold blood.
Pandemonium was said to have broken out as local residents ran helter-skelter to the scene of the incident to catch a glimpse of the gory act and sympathizers could be seen wailing and lamenting about the ugly episode.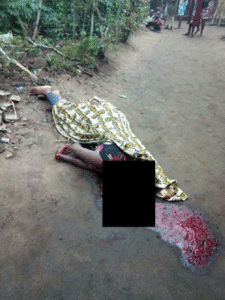 An elderly woman who simply identified herself as Madam Eno, decried the incident amidst sobbing, and wondered why the man should have killed the wife in such a dastardly manner, as according to her, the village has never witnessed such a gruesome incident before, describing her as a very caring, industrious and peace-loving woman.
Vanguard gathered that the man allegedly slaughtered the wife with machete and the incident, according to our source, occurred at about 8 am in the community which is about 15 minutes' drive to Uyo, the State capital.
It was not immediately ascertained why the man allegedly murdered his wife, who was in her early 30's with five children, but sources said that it may have been connected to domestic squabble.
The woman was said to have been a hard-working petty trader, very courteous and loved by the villagers.
Police Public Relations Officer, Akwa Ibom State, Odiko MacDon, Deputy Superintdendent of Police (DSP)who confirmed the incident, said the suspect has been arrested and was cooling his heels in the cell of the Itam Division of the Nigeria Police Force.
When asked the motive behind the murder, he said the Police have swung into action and that he would be prosecuted at the end of the investigation.