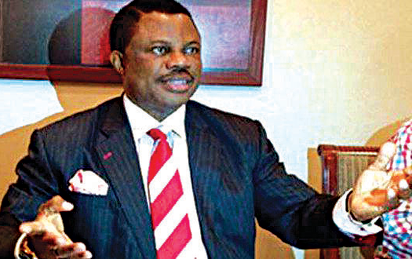 Chief Willie Obiano
By Vincent Ujumadu
AWKA—HUNDREDS of workers from the 21 local government areas of Anambra State yesterday marched through major streets in Awka to protest non-passage of the local government autonomy bill by the state House of Assembly.
Yesterday's protest was a follow up to an advocacy visit to the House by a coalition of Civil Society-Labour Alliance in Anambra State which took place last week. Shortly after the visit, the state legislature considered the amendments as passed by the national assembly.
Programme Manager of Community Empowerment Network, Elder Eloka Okafor and the state President of National Union of Local Government Employees, NULGE, Comrade Jerry Nnubia, who led yesterday's protest, regretted that the state legislature considered 15 clauses on the constitutional amendment as passed by the National Assembly, but refused to grant autonomy to the local government system during clause by clause consideration by the lawmakers.
Waving placards some of which read: "Grant autonomy to LGs"; "Remember you are from local governments" and "No LG autonomy, no re-election for House members," the workers urged Anambra lawmakers to show good example by granting autonomy to the local government system in the interest of true democracy.
Addressing the lawmakers who received them at the House of Assembly premises, Okafor urged the lawmakers to set the pace for true democracy to thrive by granting the local government autonomy so as to bring development to the rural populace.
According to him, the coalition agreed to support Anambra State House of Assembly to vote 'yes' in favour of the local government autonomy which, he explained, was sacrosanct to the development of citizens of Anambra State.
In his speech, Comrade Nnubia, who is also the state chairman of the Nigeria Labour Congress, NLC, said the local government autonomy would open up the political space, thereby reducing what he called the mad rush for elective positions to the state and national legislature.
"You should be writing your names in gold if you support the local government autonomy, especially when you realize that there is no development at the third- tier of government due to lack of autonomy," Nnubia said.
Deputy speaker of the House of Assembly, Mr. Harford Oseke, who spoke on behalf of the lawmakers, assured that they would not be a barrier to local government autonomy, explaining however that it was not something the House of Assembly would consider alone.
He urged them to remain patient, adding that in the next one month, the result of the public hearing to be conducted on the matter, would be made public.