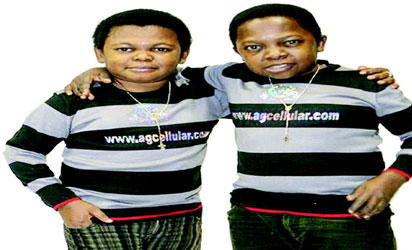 Pawpaw and Aki
…as Nollywood pays last respects to him
Screen twins, Osita Iheme a.k.a Pawpaw and Chinedu Ikedieze a.k.a Aki who took the Nigerian movie industry by storm  after featuring in that debut movie, "Aki na Ukwa" looked sober Tuesday evening, as they relived memories of how the 'Aki and Pawpaw' brand was created  years back.
The duo spoke at the candlelight/tribute night in honour of the man that created the Aki and Pawpaw brand, Chukwuka Emelionwu, popularly known as Kasvid.
A notable film maker and marketer, Kasvid  died last month in a fatal accident, while on his way to his village in Anambra State. He was reputed to have produced popular movies such as  "Mr. Ibu in London", The last Burial", August Meeting", Isakaba", 'Aki na Ukwa among other movies. He also created such movie characters as  Mr. Ibu, Aki and Pawpaw.
At the candlelight/tribute night  which was organized by Nollywood stakeholders headed by Sir Emma Isikaku, movie stars, producers, marketers and friends of the industry that graced the event took turns to pay glowing tributes to the departed film maker. While many described  the late Kasvid "as a very respectful person who struck gold and shared his heart of gold with the industry", others saw him as a talent groomer." But besides  the glowing tributes paid to the late film maker, Aki and Pawpaw's tributes moved everyone in the gathering to tears. The actors who have made names for themselves as the most famous actors in Nollywood owing to their sizes publicly acknowledged the inevitable role the late film maker played in their acting careers.
According to Osita Iheme a.k.a Pawpaw, Kasvid  was his boss before he  later became his friend. "Kasvid was my boss who later became my friend. I met him in 2002, in Eungu. Then I was based in Aba, where I was horning my acting skills. I decided to relocate to Enugu to hustle. While in Enugu, Kasvid was shooting a film. When he sighted me, he developed  interest in me. He just  believed in me immediately he sighted me." Fighting back tears, Pawpaw recalled how the late film maker created the 'Aki and Pawpaw' brand.
Narrating further, he said "Kavid asked me if I would like to go into acting. I told him, I have been into actng way back in Aba. He then asked me again, do you know Chinedu Ikedieze who featured in the "Last Burial." I answered him in the affirmative. Then I didn't know he was the producer of the Last Burial. Later, he invited a  writer to write a script around Chinedu and I. That was how the movie, "Aki  na Ukwa" came about.
On his own, Aki said, he met the late film maker while he was an undergraduate at Institute of Management Technology, IMT, in Enugu. "I went for an audition, and he saw one-smart looking small boy and he immediately developed interest in me. A week after that encounter, he visited me in my hostel on campus. Kasvid took a risk in us. He invested his  money in us.  He saw something in us that other producers did not see. He made us who we are today," Aki echoed.
Comic-actor, Charles Inoije recalled how the late film maker also gave him his first role ever in a movie.  According to him, while he was waiting to proceed to the NYSC camp, after his graduation, he reached out to Kasvid who invited him to Enugu, where he was shooting a film."He invited me to a movie location in Enugu and that was how my journey into Nollywood started,  "Inoije recounted.
Other celebrities that paid glowing tributes to the departed film maker were Mr Ibu, AGN president, Emeka Rollas,Hon Desmond Elliot, Lancelot Imasuen, Peace Anyiam-Osuigwe to  mention but a few.