THE Nigeria Football Federation, NFF, President, Mr. Amaju Pinnick, recently showed what it means to be one's brother's keeper. Unlike others, he chose to be more than a mere sympathiser in the pathetic situation of Nigeria's international football star, Wilson Oruma.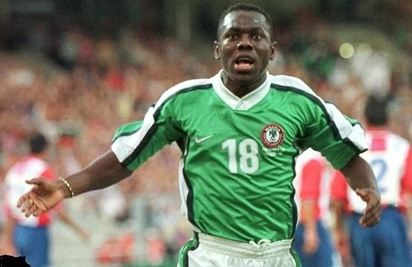 The NFF boss intervened to ensure that the distressed former national soccer icon gets the best of medical attention and other reliefs to get him back on his feet.
Oruma has been battling emotional disorder since 2012 after being defrauded of his N2 billion life savings by some fake oil businessmen masquerading as investment partners. The experience left him traumatised and his health deteriorated rapidly to the point of being hospitalised.
Recently, Oruma suffered a major relapse of the mental breakdown, with pictures of him looking pathetically disoriented and impoverished in a low-grade hospital going viral.
Efforts by some ex-Nigerian footballers and former team mates of Oruma to organise a charity match to raise money to assist him were disavowed by a family member who questioned the motive of that gesture.
Pinnick relocated him to a reputable hospital where he is receiving quality treatment and also offered him a job as an assistant coach of one of the national teams.
"By next week, Oruma will move into my house before they finish furnishing the three bedroom flat where he would stay. His story is a pathetic one and we cannot allow him to die," Pinnick was quoted to have said.
Oruma, 41, had an illustrious 17-year playing career that started in Bendel Insurance of Benin before he moved to France where he signed to play for Lens FC and won the Ligue 1 title in 1998. He made a modest fortune playing for clubs in France and Greece before he retired on November 26, 2010.
Apart from club football, Oruma captained and indeed was one of the standout players in the Golden Eaglets that won the 1993 U-17 FIFA World Cup. Three years later, he made history with the national Under-23 team that won the gold medal at the football event of the Atlanta 1996 Olympic Games. He also played for the Super Eagles and won two bronze medals at the African Cup of Nations in 2002 and 2006.
There is no doubt that Oruma is a treasured national soccer icon. We heartily commend Pinnick for rallying to his assistance at such a distressing moment in his life.
We, however, insist that Oruma must get justice. No effort should be spared in pursuing those who defrauded him of his hard-earned fortune until as much of it as possible is recovered and the criminals sent to prison. Oruma stood up for Nigeria in his youth. Nigeria must do justice for him to show appreciation.