LAGOS—FORMER governor of Abia State , Dr Orji Uzor Kalu, yesterday, urged Asiwaju Bola Ahmed Tinubu,    the national leader of the All Progressives Congress, APC,   to quickly get to work and reconcile aggrieved members of the ruling party.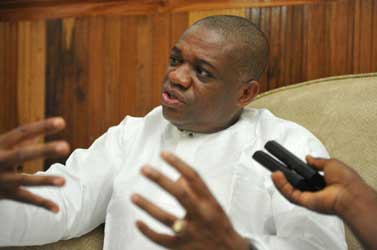 This is just as Kalu canvased support for Igbo presidency in 2023.
Speaking to reporters on arrival from Abuja yesterday at the Murtala Muhammed Airport Terminal Two, MMA2, Ikeja, Lagos, Kalu   said it does not augur well for a serving governor, Ajumobi and the Communication Minster, who are members of the ruling party to have political differences at a time they should   be galvanising support for Buhari's re- election bid.
Kalu said: "I have reported this to the highest authority of the party that it is not proper for a governor and minister in Ibadan to go two parallel ways."