By Clifford Ndujihe
UMUAHIA—THE Indigeneous People of Biafra, IPOB, has decried what it described as the worst form of judicial immorality and conspiracy, the continuous release of violent Boko Haram suspects and detention of peaceful IPOB members.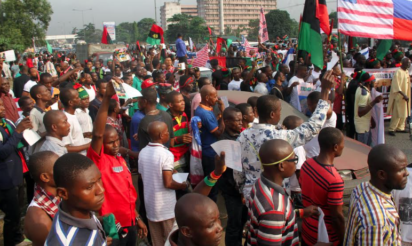 Weekend, a Federal High Court sitting in Wawa Cantonment, Kainji, Niger State  released no fewer than 475 suspected Boko Haram members to be rehabilitated by their state governments.
Reacting to the development, the IPOB, in a statement by its Media and Publicity Secretary, Comrade Emma Powerful, noted with dismay the release of another group of Boko Haram suspects ''while innocent IPOB family members are still being illegally and unlawfully detained, some for nearly three years without trial as in the case of David Nwawuisi at Kuje prison in Abuja.''
It continued: ''To rub salt on the injury, Nigerian Police, DSS and Army rather than facilitate the release of Biafrans in their custody have instead continued with their reign of terror across the South East and South South. The latest is the arrest of Mrs Blessing Okoye in Obigbo Igweocha (Port Harcourt) on the evening of Sunday February 18, 2018 by Hausa speaking men of the state secret police, the DSS.
"How can this APC government of Buhari, the Nigerian National Assembly and Nigerian judiciary  morally justify the detention and continued arrest of a peaceful people with no history of violence whatsoever while releasing those involved in the most heinous and abominable crimes known to man? Justice in Nigeria as we know it has been turned upside down, killers released, innocent people incarcerated indefinitely. This level of brazen judicial wickedness, immorality and double standards cannot obtain in any other society on earth except Nigeria.
"Till date, no single law court in Nigeria can categorically state, with any shred of conviction, that they have before them any evidence, no matter how insignificant, to the effect that IPOB has been involved in a disorderly conduct , let alone murder or any other illegality. IPOB remains till date the largest and most peaceful mass movement on earth. Our only crime is to demand for our God given right to self determination the same way humans have been doing since the dawn of civilisation.
''A Yoruba man Herbert Macaulay started the agitation for self determination that led to independence for the geo-political entity we have come to know as Nigeria. Today, Buhari and his tribesmen are enjoying unprecedented political power, military might, wealth and influence directly derived from agitation for self determination initiated by a Yoruba man and those that emerged later like Dr Nnamdi Azikiwe and Chief Obafemi Awolowo popularly referred to as nationalists."