By Chris Onuoha
It was a total display of dexterity, team work and good spirit of sportsmanship exhibited by the student athletes of Neander International School Epe last weekend as the school had their second Inter-House Sports festival held in the school playground.
Gathered in their numbers were parents, guardians, teachers and invited students from other schools as the school's participating houses – Ikogosi House, Obudu House, Oguta House and Yankari House, all slot it out for sporting supremacy in a highly contested event.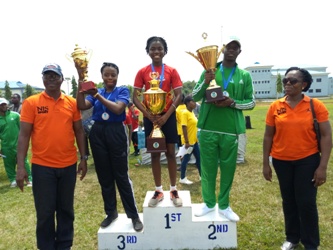 The only field track sporting event that dominated the festival kicked off by 9.am with an opening speech from the chairman of the occasion Mr. Omowumi Hassan followed by a march past by the participating houses while the games came later on. Others in attendance include the chairman of the Parents Teachers Association, Mrs. Ruth Igwe, PTA Treasurer, Mrs. Ngozi Onyeador and other PTA members while the school Principal, Idris Agbaje anchored the programme.
The game, segmented into junior and senior category, boys and girls, featured field tracks in 100m, 200m, 400m and 800m races including relay race. At the end of the competition, Ikogosi House proved their supremacy clinching the first position with 9 gold, 3 silver, 7 bronze followed by Obudu House in second position while Oguta House took the third position.
Commending the good sporting spirits and team work exhibited by the participating students, chairman of the occasion Mr. Omowunmi Hassan  was highly elated and disclosed that sports is the only unifying factor that can bringing all people together for meaning purposes. He however charged the government to look inwards and revive school sports as one means of encouraging the youths from restiveness. "It is like we have lost those good old days of sporting events.
Even at that time, children who are engaged in this type of inter-house sports events are already being picked to represent in nationally conducted events. These days, the whole thing is going down. You can see that states are now picking or selecting sports men and women from those that probably left the country, studying abroad or those that are practicing professionally abroad who come back as foreign base. We need to encourage the children from the base."
In the same vein, Ngozi Onyeador, the School's PTA treasure said that catching them young through sports is one vital means of solving some career challenges in children. According to her, not all kids are good academically, but with sporting events like this, many of them have been discovered and excelled in sporting careers. She said that some Olympic champions were discovered through school sports and grassroot sporting activities.
"I believe that you can see what is going on here today in Neander. It is a place where children have the best sports facilities – standard swimming pool, football pitch, Lawn tennis and table tennis court, hand and basketball courts with good sitting arena. Any school that has these type of facilities will always boast of excellent sports men and women in their midst."
Idris Agbaje, the principal of Neander International Schools, Epe, Lagos while chatting with Vanguard said, "Today we are celebrating our second inter-house sports. Basically, the essence is to bring out the best and showcase sporting skills in the children and also to develop the spirit of collaboration, working together as a team and also to improve their spirit of sportsmanship."
Mr. Agbaje also disclosed that the school that was established about six years ago by a retired Chief Justice, George Oguntade is highly technologically incline with each student equipped with personal laptop for interactive learning. "We have a learning portal that the children use and with this, the parents get to see what the children are doing on the portal. It is a small school and we coordinate all the student's activities at ease. It is a full boarding school with high-tech equipment to making learning easy," Agbaje concludes.