Igando (Lagos State) – An Igando Customary Court in Lagos on Thursday intervened in a marital crisis and saved a four years old marriage from collapse.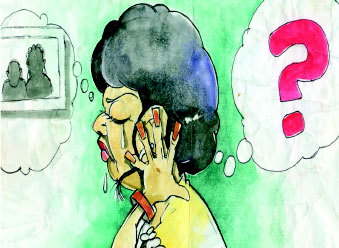 Instead of granting the prayers of Mrs Sandra Nwabisi to dissolve her troubled marriage with her husband, Hope, the court imposed on itself the job of reconciling the couple.
The court's President, Mr Akin Akinniyi, resolved the differences between the estranged couple after several adjournments and interventions.
While striking out the case, he admonished the couple to maintain peace and continue to live in love and harmony.
"Since the court was able to reconcile the couple through counselling, I urge both of you to go home and live in peace, love and be law abiding," he said.
Earlier during the hearing of the case, Sandra, had sought divorce, claiming that her husband had been bringing his lovers to their matrimonial home and had also infected her with Sexually Transmitted Diseases (STDs).
"My husband is an incurable womanizer, he runs after anything in skirt. He comes home with different girls of different sizes and colours.
"Whenever I challenge him to take the girls to the hotel, he always descends on me and give me severe beating.
"Hope has infected me with STDs due to his adulterous lifestyle," the 33-year old trader lamented.
The mother of three described her husband as an ingrate, who could not appreciate that she had been paying the rent for the house they were living since they got married.
According to her, she has been taking care of their children's school fees.
"I do not love him any longer and I am not interested in the marriage again,"
The husband, however, denied all the allegations, accusing her of accommodating her married female friends in their house.
"Sandra brings her friends home to spend days and whenever I ask her to send her friends away, she will fight me."
The 44-year-old businessman, who accused her of threatening to kill him, added:"I perceived the odour of Jik when I removed food from the fridge. When I called her attention to the food, she quickly carried the food and disposed off the food.
"Because of that I stopped eating her food and stopped making love to her since October 2016."
He had consented to the dissolution of the marriage, saying "I am also tired of the marriage."(NAN)