Tells govt to criminalise discrimination against ladies in Hijab
Tells govt to criminalise discrimination against ladies in Hijab
Al Muminaat, The Believing Women organisation has said that denial of the right to wear hijab is not only an affront to the chaste Muslim woman, adding that the act is tantamount to waging war against Islam.
Addressing journalists at a press conference to commemorate the World Hijab Day at its headquarters, Jibowu, Lagos, National leader of the organisation, Hajia Nimatullah Abdulquadri warned that various incidences of discriminations, denials, persecutions, profiling, harassments in public institutions must stop forthwith.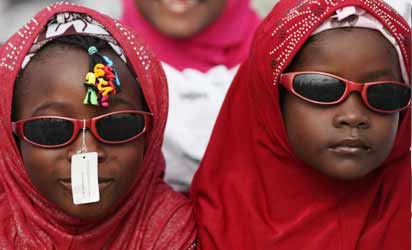 "It is really saddening to observe that, despite the clear provisions of Article 18 of the Universal Declaration of Human Rights which was proclaimed by the United Nations General Assembly which provides for the right to freedom of thought, conscience and religion, Muslim women are still being subjected to a lot of persecution, ridicule, oppression and injustice because of their religion.
"World Hijab Day is an annual event founded by Nazma Khan in 2013. This event takes place on February 1st each year in about 100 countries worldwide.
"It was borne out of the challenges that the Muslim woman face such as discrimination and harassment, due to the observance of her faith.
From the continuous denial of the right to wear hijab to school girls; to insistence of institutions that the ears of Hijabis be exposed during data capture; to Amasa Firdaus denial of being called to bar.
" It is commendable that the House of Representatives has decided to wade into the Firdaus Amasa's issue, we must say that they should not only ensure she gets justice, but be compensated for the trauma she went through.
"Fidaus Amasa's has actually made it abundantly clear that the Nigerian nation is not serious about the Girl-child education and giving equal opportunity to all citizens. It is telling us that education is not to get those who chose to be Muslims and express their being so.
"Hijab is a Religious duty enjoined upon the Muslim woman by God. In Quran 24:31 Allah says
"And say to the believing women that they should lower their gaze and guard their modesty, that they should not display their beauty and ornaments except what (may ordinarily) appear thereof, that they should draw their veils over their bossoms and not display their beauty…" and in Quran 33:59 Allah says "O prophet! Tell thy wives and thy daughters as well as other believing women, that they Should draw over themselves their outer garments (veils when in public); this will be more Conducive to their being recognized (as decent women) and not molested"
"It is NOT the culture of Arabs as some would want to make us believe or a fashion accessory that one may discard at will. It is a religious duty and an obligation on every Muslim woman in the observance of her faith.
"And this right to belief and practice ones chosen faith is an inalienable right of every human being, is entrench in the constitution of the Federal Republic of Nigeria 1999( as amended)
"To wear the Hijab by the Muslim woman is the practical application of these constitutional provisions. A sure way to call to anarchy is to jettison the provisions of the law.
"Our 2018 theme is "My Hijab, My Right". This theme seeks to remind the government, as well as our fellow citizens of our religious rights as regards constitutional provisions, especially at this time that the hijab is being assaulted and when modesty of covering up is being ridiculed or associated with oppression and backwardness.
"Perhaps, the above is regarded as not adequate, Al-Mu'minaat's is seeking that legislations be made to specifically criminalize discrimination, harassment, molestation and / or persecutions of Muslim girls and ladies in the religious gear, the hijab.
"To make laws to protect the rights of the Muslim ladies in the hijab in all facets of life, and provide the wherewithal to make it enforceable and justifiable.
"We urged the Supreme Court to expedite action on the Lagos State government appeal against the ruling of Appeal Court in support of wearing of hijab in schools.
"We demand that Muslims be seen and treated as complete and free human beings. We demand full right and recognition as citizens of Nigeria, this country belongs to us all. When laws are broken, punitive measures must be meted out to defaulters, if not anarchy will persist. Enough is enough !
"To our fellow sisters facing persecutions and discriminations due to their use of the hijab, remain calm. Justice is nigh. You are on the right path, the persecutors and those discriminating against you are wrong before man and Allah Our Lord and Benefactor.
"My Hijab, My Right"