Security situation has returned to normal—IGP
We're 100% for peace— Benue dep gov
By Kingsley Omonobi, & Joseph Erunke
Abuja—Political and traditional leaders from Benue and Nasarawa states, yesterday, met with Inspector-General of Police, Ibrahim Idris, at Force Headquarters, Abuja, with a pledge to co-exist in peace.
At the meeting, the IGP disclosed that after the period of skirmishes and confrontation between herdsmen and farmers over grazing activities as well as that of border communities in Nasarawa and Benue states, the security situation has returned to normalcy.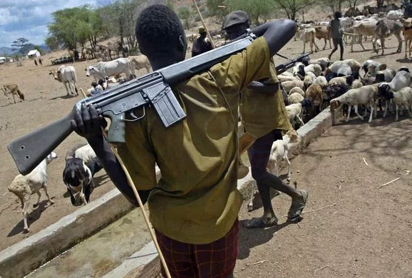 Speaking at the reconciliation meeting, the IGP said information reaching him from the Deputy Inspector General of Police in charge of Operations, DIG Habila, who is currently in Benue State, showed that the security situation had normalised.
While praying that the security challenges that resulted in the crisis never occur again, the IGP commended political and traditional rulers of both states for their contributions towards the existing peace.
He said: "This meeting should be conducted as a kind of reconciliation meeting. We are not here to apportion blame. We are out here for peace within the border communities of Benue and Nasarawa states. We must have peace and sanity in these areas that we are experiencing crisis."
We are 100% for peace
—Benue dep gov
In his address, leader of Benue State delegation and Deputy Governor, Benson Abonu, said: "We, from Benue State, are here for a meeting of brothers aimed at bringing peace to the ordinary people of Benue and Nasarawa states.
"Both states were created from the Benue-Plateau State. We have lived together as brothers and sisters from time immemorial. The best is to maintain peace so that cordiality reigns and for the sake of our children.
"We cannot afford anything less than peace. But the peace must be founded on justice, equity, equality. Benue State is 100 per cent for peace. We will do everything to ensure peace.
Ripple effect of open grazing law
On his part, Special Adviser to Nasarawa State Governor on Security, Brigadier-General Muhammad Umar Adeika (retd), disclosed that the people of Benue and Nasarawa states were not at war.
"Nasarawa State and its people do not have any problem with Benue State. We have conflict resolution mechanisms, which we employ in time of crisis. We can share it with our brothers from Benue State.
"The problem we are having is the ripple effects of the open grazing law of Benue State. We don't have anything against the law because it is Benue State legitimate law. But the effect has affected us seriously.
"All those running away from Benue State are running to Nasarawa. Though it is tough but we are trying as much as possible to accommodate them to the best of our ability
"So regarding this meeting, we are here with all sincerity. I am happy that our Benue State counterparts have expressed the same feeling for peace and we are in total support.''
The meeting later went into closed-door with the Commissioners of Police for Benue and Nasarawa states in attendance.