By Sam Eyoboka
GENERAL Overseer of Bible Life Church International, Bishop (Prof) Leonard Umunna has warned the nation's leaders that unless they handle the continued killing of local farmers by Fulani Herdsmen in different parts of the country with Godly wisdom, it could plunge the country into avoidable catastro-phic consequences.
Addressing newsmen in his church office recently, Umunna, who has been campaigning for a home-made Nigerian constitution without which the nation won't make appreciable progress, said the current feeling of anger among the people across the nation is enough to lead to revolu-tion.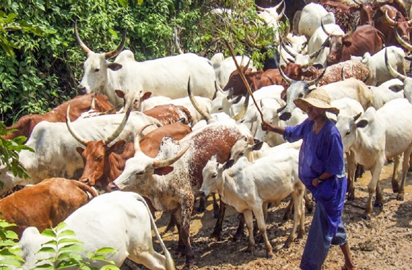 "If you look at the case of Benue killings, the lopsided political appointments with growing cries of marginalization, if you take into cognizance the level of pover-ty in the land; deprivation, youth unemployment and general inse-curity, you will know that these can lead to war," he said, remind-ing the nation that such were the indices that led to the Nigerian Civil War.
According to him, "Nigeria is pushing towards another civil war in different directions. A good leader does not care about your religion, your tribe or any of such. A good leadership must reflect on the faces of the people," he stated, stressing "if majority of your people are not happy, then you have missed it.
"I don't mean you must dance to their tune in everything; but those things that are legitimate and those things that make for good living must be made available but the way it is now in the country, it appears that majority of Nigerians are not happy and they are saying that government must listen to them and be more proactive," Bishop Umunna argued.
He wondered when the current government will address the desires of the people, "I don't know whether it is when all Nigerians are dead that they will realize that the government is in shambles. The time to put things in order is now that the people are still breathing."
Asked to proffer solution to the nation's seeming unending poli-tical crises, the cleric reputed to have contributed immensely to the development of Ajegunle—a suburb of Lagos—averred that the 1999 constitution as amended is not suitable for the development of democracy.
"Unless that document is discard-ed and replaced with an entirely brand new document that is truly indigenous, we will continue to mark time. They should go for a new Nigeria," arguing that the current Nigerian state is an amalgamation of many nations with diverse interests.
"It is not just about North and South. It is not a question of, let the Minorities or Majorities have their say. No! From among the minorities there could be those endowed with leadership qualities better than the majority tribes ….Nigerians don't care who rules them; what they are after is good governance," he stressed, noting that when Chief MKO Abiola, a Muslim contested elect-ions with Alhaji Babagana Kingibe, another Muslim, in 1993 it didn't bother Nigerians.
"It is bad leadership that promo-tes religion, ethnic sentiments and what have you. To move Nigeria forward the constitution must be discarded in its entirety. We must throw everything away. Let us go back to what was in place that helped our education and other areas of our life before the arrival of the colonial masters.
"We were a people before the colonial masters arrived. Let us fashion out a constitution that fits our moral concept as a country. Even the economy we are lament-ing, my advice is that we should copy the example of Denmark, Finland and Switzerland.
"Some nations have done it and are reaping the fruit; we can also try to copy what they did. What we are saying is that those who are superior to you, go to them and ask how they got to where they are," Bishop Umunna argued.