By Rotimi Ojomoyela
Ado Ekiti—THE Independent National Electoral Commission, INEC, in Ekiti State,  yesterday, lamented that about 215,000 Permanent Voter Cards, PVCs, are yet to be claimed by owners few months to election in spite of its sensitization and campaign programmes.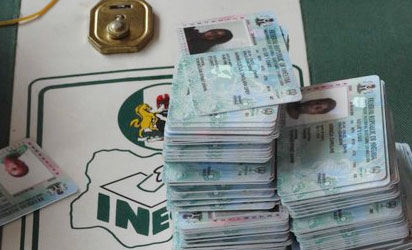 It also assured that underage voting will not be witnessed in the forthcoming elections.
Speaking with newsmen in Ado-Ekiti, the INEC Resident Electoral Commissioner in the state, Prof Abdulganiy Raji, said: "We have done a lot of jingles and also working with all our outfits in the 16 local governments for voter education, but despite that,, our people seem to be showing apathy."
Raji, however, expressed optimism that "all these will be collected before that election, because our aim is to ensure that we have high turnout during that election like we witnessed on July 21, 2014."
While assuring that cases of underage voting won't be allowed during the July 14
governorship election in the state, the REC clarified that the electoral body has not allowed such tendency during registration exercises that had been undertaken in Ekiti since inception.
He said the commission won't  allow any  sharp practice, including underage voting that can vitiate the electoral process.
Raji spoke based on controversies that raged over the just concluded Kano local government elections, where some under aged voters were allegedly found to have voted.
His words: "From inception, we have not accepted such tendency here in Ekiti and we won't tolerate it. Election is a serious matter that  has to do with people's sovereignty  that must not be abridged in any form.
"So, we are assuring you that the Ekiti governorship election will meet international standard. We will improve on our outstanding past records to the extent that all the political parties and stakeholders will have cause to commend us."
Speaking on the commission's preparedness for the governorship election, the INEC boss said: "Yes, we are working with the National Youth Service Corps, NYSC, where we will draw our ad hoc staff from."
"We have started training them and engaging them in election seminars, so that they can be well educated about the conduct of elections.
"We have started training for our staff here in INEC and we are awaiting instructions from our national headquarters to lift ban on  electioneering campaigns, so that we can increase our work rate here  in our office", he added.