By Festus Ahon
ASABA-WIFE of the Delta State Governor, Mrs Edith Okowa, has stressed on the need for parents especially mothers to ensure right nutrition is given to their children/wards.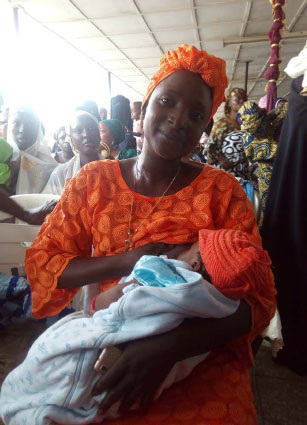 Speaking shortly after her investiture as the state's nutrition champion by the United Nations Children Fund, UNICEF at the launching of the Scaling Up Nutrition, SUN Initiative in collaboration with the state government held in Asaba, said, "the importance of proper nutrition cannot be overemphasized.
She told the state primary health to educate women on the importance of breast feeding, adding that "breast feeding is so important especially in the first 100 days of the child".
Okowa who is the founder, O5 Initiative, said the investiture was an additional call on her to do in the society, saying "I am very careful of what I accept because what you cannot do, do not accept because I do want anything that is going to hinder me from meeting with my creator when I am gone".
Explaining that it does not cost much money to get the right nutrition, she said; "it will amaze you that if you do not have enough money to buy meat, cray fish is enough. How much will it cost you to add vegetables to your meal"?
Also speaking, the State Commissioner for Economic Planning, Mr Kingsley Emu, said the state has come a long way in addressing the issue of malnutrition "especially as it affects women and children in Delta State".