By Rotimi Ojomoyela
Ado-Ekiti—GOVERNOR Ayodele Fayose of Ekiti State has accused his predecessor, Dr. Kayode Fayemi, and the All Progressives Congress, APC, of frustrating his efforts to pay workers'  salary arrears.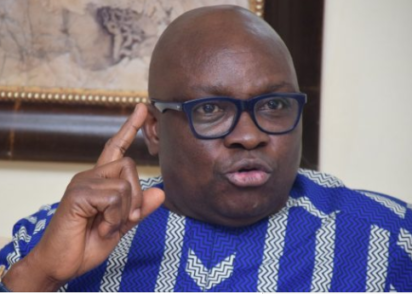 The governor also accused the Federal Government of stopping payment due to the state as a refund on road projects.
Fayose, who stated this at a press conference in Ado-Ekiti said: "This is the latest display of deep-seated hatred against Ekiti State and its people by the leadership of the APC, especially the Minister of Mines and Steel Development, Dr. Fayemi.
Former Ekiti State Commissioner for Finance, Dapo Kolawole had, in a suit filed on January 18 at the Federal High Court, Abeokuta Division, marked FHC/ABK/CS/6/2018, asked the court to halt the payment of the outstanding sum of N11 billion being awaited as refunds from the Federal Government on Ado-Ifaki Road to the Fayose administration.
Fayose said: "When I said that I won't leave office as a debtor of salary, I was sure that the over N12bn owed the state by the federal government on construction and rehabilitation of federal roads will be paid this month.
"However, I'm shocked that in their usual characteristics of working against every effort to alleviate the sufferings of the people, Dr. Fayemi through his Commissioner for Finance, Dapo Kolawole, went to court in Abeokuta seeking an order that the N11bn refund should not be paid to my administration.
"Because of this court action, the refund that should have been made this month is said to have been stopped."
The governor argued that the latest action by the federal government was aimed at destabilising the state government ahead of the July governorship election.
"My question is: must Ekiti people, especially the workers be made to suffer just because of the forthcoming governorship election? Is it by an inhuman act that these APC people intend to realise their tall dream of taking over Ekiti state by force?
"I consider this as wickedness taken too far against one's own people all in the name of election. This action is not against me but the good people of Ekiti,", Fayose said.