…Delves into music to reclaim his lost glory
By Benjamin Njoku
Old school singer, Felix Liberty, who ruled the Nigerian music scene in the mid-80s with his hit song, "Ifeoma" is not yet done with music. He disappeared into thin air  when the ovation was loudest, but the good news is that the self-styled Lover Boy is coming back to reckoning. And this time, he's resurfacing in his daughter, Ivie who has stepped into his shoes to reclaim the lost glory of her father.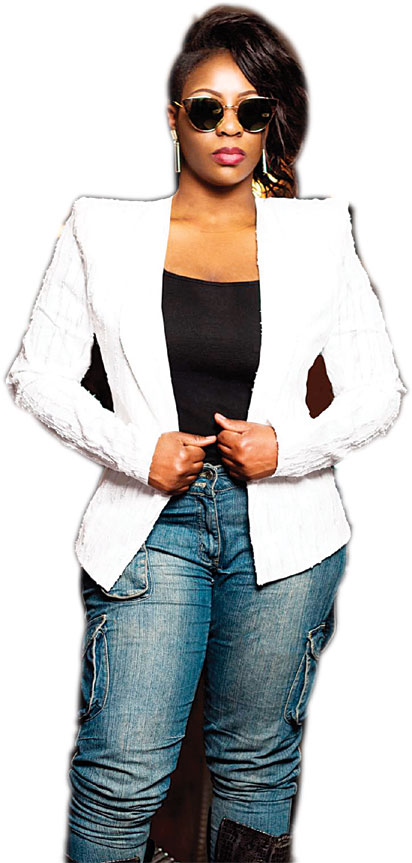 Ivie, a London-based Nigerian fashion designer, is not new to music. She released her first solo album titled: 'Nigerian Girl' in 1996, when she was 11 years. But following her dad's advice, Ivie had to dump music to concentrate on her studies. Now, 22 years after she obeyed the voice of her father, the beautiful mother of four is back to continue from where she stopped in music.
She was in Nigeria during the week, where she was recording her new album with her father. The five track album titled, 'Zonist' is billed to drop as soon as possible. The beautiful fashion designer-turned singer was overjoyed, returning to her first love-music after many years of hiatus.
She told Sidebeat, in a chat that she's back to continue from where she stopped, saying she has achieved everything she wanted  to achieve in life. "I got married, had my kids and graduated as a fashion designer and had my master degree in Fashion Designing, Marketing and Production. This is the right time for me to do music because I have achieved everything I wanted to achieve. The next thing for me to do is to concentrate on my music," Ivie said.
As the first child of Felix Liberty, Ivie said, she developed the passion for music as early as 7 years. Then, her dad used to invite her whenever he had visitors to entertain them. But when she was 11 years, her dad encouraged her to release her first solo album which unfortunately did not break into the Lagos market.
"The song made waves in some cities including  Aba, Benin and Onitsha. But it didn't break into the Lagos market. Then, my new found love in music was seriously affecting my studies and my dad advised me to slow down a bit. That was how I dumped music in order to concentrate on my studies. And, when I completed my secondary education, I travelled to the United Kingdom to further my eduction," she narrated.
Ivie described her kind of music as a blend of RnB, reggae, hip hop and Afro pop, adding that her upcoming album is inspired by the different experiences she had at different stages of her life.
Speaking further, the rising singer, who revealed that her siblings are also into music, said "My music is one that embraces life, talks about the goodness of God in your life as a Christian. It's a music you can dance in the club, church and social functions. It's like spreading the gospel in a musical form."
On what it takes to be Felix Liberty's daughter, Ivie said it takes simplicity and obedience to be his daughter. Describing her dad as a legend, a role model and a teacher, the beautiful singer said she's blessed to be associated with the acclaimed lover boy of old.
Being the first daughter of Felix Libarty
"I'm so blessed to even be related to Felix Libarty because he's a legend. There are musicians and there are true musicians. My father is one of them, not because he's my father, but because it's indisputable. He is so passionate about everything he does, if he's not passionate about it, he doesn't get himself in that thing. As his daughter, I have been blessed to emulate him. He's a teacher and indeed, a friend. He's a father that sees the best in you and encourages you to develop it. I'm so blessed to have him as a father. My dad is my true role model."
When asked what she hates about her dad's past, Ivie said it's the fact that he had too many women around him, which ultimately affected her upbringing in a way. But as far as she's concerned,  her dad didn't know what he was doing then because he acted according to the flesh.
"If you are in God so many temptations and attractions would come to you from different ways. Now that I am a Christian, I can understand that his actions then were according to the flesh. Although, it affected me in a way, because sometimes I'd need to have that fatherly conservation with him,but he wouldn't be there. That affected me a bit but with time, I began to understand that he was acting according to flesh."
Continuing, she added: "Even though he was involved with different women, he never neglected his duties to us as his children. He was always there for me, making sure that I was okay, physically and mentally. It affected me, but when I grew up and got married, I could understand that he wasn't married to those women and he knew better.
And, when he became born again, that lifestyle just left naturally and he returned to my mum who was the first woman in his life." While many believed that Felix Libarty disappeared from the scene because he had nothing to offer again, Ivie who launched the eponymous label called, Ivie Liberty in 201, in London,  frowned at this notion, saying "My dad didn't disappear from the scene, rather it was a period of soul searching for him. It was a point in his life that he had to search for who he is in Christ. That moment he wanted a spiritual rebirth."
According to her, music runs in the blood of their family.Interestingly,  her three siblings are also  into music.
"My immediate younger sister is into music production,my brother who's my father's first son is also into music production and media. Our last born who's studying Acting at the Republic of Ireland is a celebrated entertainer, dancer and an actor. He has won several laurels in this regard. It's very natural and my dad never interfered with our choice of careers. We are living up to his expectations," she enthused.
On appraising the country's music scene, Ivie said the industry has opened the eyes of the world to Nigeria. She regretted that when she started playing music, it wasn't as flourishing as what it's today. 'It was one of the things that really affected me. The entertainment scene in Nigeria is phenomenal and I'm grateful that I am at a place and time where Nigerian music is appreciated across the globe," she said.
Aside music, Ivie is a notable fashion designer in the UK. Growing up, she naturally appreciated arts and the creatives more than her peers. Although, slightly unusual, and at a really young age, she discovered herself, interests and talent and started to explore it – she would painstakingly illustrate her favourite Disney cartoon characters on plain canvas and then sell them to friends and family. Her only tools- a pencil and some colouring pens, Ivie demonstrated very mild creativity, which needed to be nurtured to maturity.
Meanwhile, Felix Libarty said it gives joy to see his children taking after him in music. According to him, " It's so beautiful and it's like you are seeing your tomorrow. Music has been given to my children by Almighty God spiritually and I'm just blessed to be part of it. For your children taking after you, you go with that grace and support them. The music that God has given to me, he wants to sustain through my children. That's why my children are interested in music."
Recall that Felix Liberty, while he was the man of the moment, in the mid-80s, was a ladies' man. He ruled the airwaves in 1989 with this single, "Ifeoma", a song he's known for in decades. After the 1992 release of his album 419, which didn't do well in the market, he ended his music career, and travelled abroad. He returned to Nigeria after five years of sojourning in the United States, and gave his life to Christ.
Subscribe for latest Videos