By Gabriel Enogholase
BENIN—MINISTER of Works, Power and Housing, Mr. Babatunde  Fashola, has promised to deal decisively with contractors handling  the Benin-Abuja carriageway who fail to execute their sections of the project, saying that they had  no reason to delay their contracts since they have all been paid by the Federal Government.
He gave the warning, weekend, in Benin City, Edo State, during his inspection of ongoing federal projects in the state.
He said: "I have said here that we have paid all the contractors, so no contractor has any  excuse to delay his work. Contractors who do not perform, we have our remedies and we will pursue our remedies.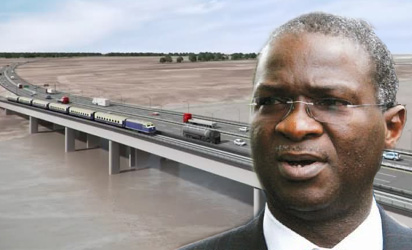 "What is important to understand is that they have worked on the first 47 kilometres.  From there we have another contractor and beyond that, we have another contractor still, until the road ends, because our roads are long.
"So, we will try as much as possible to break the work between different contractors. I think we have Dantata Sawo on the other section, we have also Mother Cat at another section. All of them have received money, so they have to be on their sites.
"This is what Mr. President is committed to in his January 1,  2018 address, that you will see this government busy with infrastructure, trying to lay a critical foundation that will really lead to economic rebirth and growth.
"This is what will determine how much fuel you burn, how much time you spend on bad roads and how that affects the cost of goods and services including food.
"So as this road moves, we expect shorter journey time, we expect to see more fuel efficiently used, that is money being saved in commuters' pockets, so we expect to see more competitive food prices and services. That is our economic journey, we will deliver," he said.
He urged the contractor handling the Ehor axis of the road and others to increase the pace of work and also ensure that come rain or sunshine, the road is motorable.