By Victor Ahiuma-Young
Lagos—IMMEDIATE past President-General of Maritime Workers Union of Nigeria, MWUN, Emmanuel Tony Nted, weekend expressed disgust over Federal Government's neglect of Oshodi-Apapa Expressway, even as he financed a multi-million Naira road and solar-powered streets light for residents of Corporation Estate in Amuwo Odofin, Local Government Area, of Lagos State.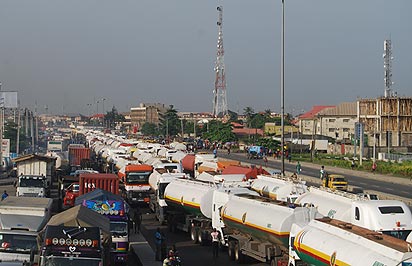 At the commissioning of the projects, Governor Akinwunmi Ambode of Lagos State,  urged wealthy Nigerians to give back to the society and assist the government in areas of infrastructure and social amenities as government could not do it alone.
According to Nted, the level of infrastructural decay across the country, especially the dilapidated access roads to the nation's ports was shocking and unbelievable, saying: "To me, it looks like people in government are not thinking. If they are, they would not allow the roads across the country, especially the access roads to the ports to degenerate to what they are today. That is the gateway to the nation's economy where government generates the bulk of its revenue. So, if Apapa and Tin -Can Ports and others are actually the gateway to the nation's economy, then government should act fast.
"When I was the President-General of MWUN, we had four meetings with the government over this issue, nothing was done. Maybe now, it may be different. The maritime sector is the alternative to oil. Most of our cargo are now being diverted to neighboring countries due to bad roads. No importer will keep his goods in the port for months because he cannot access the roads.  Even residents are fleeing from Apapa area because of the failed access roads. Government needs to act fast so that there will be a turn-around in Apapa."
On the road and solar-powered streets light, Nted said: "I was born a philanthropist which I learnt from my parents. I love to give. That is what motivated what I am doing today and everything in my life. I love to support the society."
Speaking, Ambode who was represented by a member of Lagos State House of Assembly, from Amuwo Odofin Local Government, Dipo Olorunrino, commended Nted saying: "As government, we are supposed to do this but he has lifted some burdens from us. As government, we cannot do it alone. This is simply humanitarian service and not corporate social responsibility, CSR. CSR is a compulsory act by law."