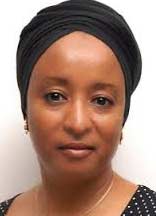 Uwais…Speaking out against child marriage
Abuja – Mrs Mariam Uwais, presidential aide on National Social Investment Programmes (NSIP), has called on Nigerians to join the programme and reap its benefits, especially on employment.
She made the plea while presenting the scorecard of the four aspects of the programme at a news briefing in the State House.
According to her, NSIP programme comprises Npower, National Home Grown School Feeding, Government Enterprise Empowerment Programme, and the National (conditional) Cash Transfer Programme, designed to support citizens facing economic challenges.
"As our programmes unfold around the country, we call on all Nigerians to join us in this effort as the ultimate beneficiaries of the impact of our activities.
"One of the most important aspects of the programme is the millions of Nigerians who have and would benefit directly and indirectly from each of the various schemes.
"All our beneficiaries are being paid directly with their Bank Verification Number; being an integral part of our design.
"Today, we have recorded 7.9 million direct beneficiaries since inception and have a presence in the 36 states of the Federation and Federal Capital Territory,'' she said
Uwais also recalled that the targets for the schemes were to provide 500,000 jobs to the unemployed graduates and/or non-graduates through Npower with eight technology hubs in the pipeline.
"Npower has 200,000 graduate beneficiaries that are currently enrolled and working in various institutions around the country.
"The selection of the next batch of 300,000 beneficiaries has been completed and those selected will be engaged in the next few months.
"20,000 more beneficiaries in the non-graduate category are set to commence training in 34 states around the country, while we continue to audit the skill centres we can utilise in the remaining states,'' she said.(NAN)