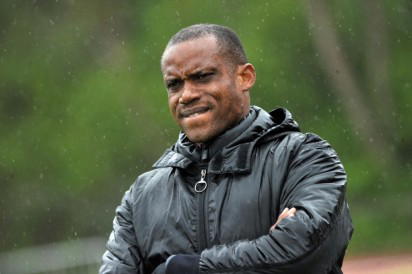 Oliseh
After four straight losses, Netherlands' second tier side Fortuna Sittard have suspended former Nigeria coach Sunday Oliseh for what it calls "unacceptable actions".

The club statement said that he has been put on "non-active" duties, stopping short of saying he has been sacked.
"Several attempts by the club to encourage a change in the coach's behaviour have unfortunately not worked, resulting in an unworkable situation," the statement said.
"The board of Fortuna Sittard emphasizes that the decision to suspend Sunday Oliseh is not motivated by the current sporting performance."
"The coach's unacceptable actions have made cooperation between many people within the organization impossible – from players to employees.
"Fortuna Sittard regrets the decision, but states that the club interest goes above all else."
Oliseh was appointed as Sittard coach in late December 2016.
Sittard finished 17th in the 20-team league at the end of last season but are currently third in the table and are five points behind leader NEC.
With eight wins and just one loss earlier this season the club actually won what is called the "second period" of the league, which is made up of four periods.
The club play in the Eerste Divisie, which is the professional league below the Eredivisie, Holland's topflight, and it consists of 20 clubs.
The Eerste Divisie champions gain automatic promotion to the Eredivisie, while eight clubs made up of the period champions and the other best-ranked teams, will compete in play-offs for two further promotion places.