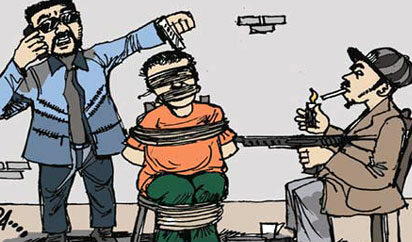 Kidnap
By Festus Ahon & Ochuko Akuopha
ASABA—kidnappers have abducted a Senior lecturer of the Delta State University, Abraka, Dr. Boniface Anyanwu and one Mr. Nnamdi , son of his colleague, Professor Austin Nwachukwu, at Obiaruku, Ukwuani Local Government Area of the state, slamming a ransom fee of N10 million for the release of each of the victims
Anyawu, a Senior Lecturer in the Department of Theatre Arts and Nwachukwu's son were kidnapped at about 3.00 am on Saturday, and whisked away in the booth of the lecturer's car to an unknown destination.
Reacting to the incident, the University's branch of the Academic Staff Union of Universities, ASSU expressed sadness at the alarming spate of incidents of kidnap of the institution's lecturers.
The ASUU branch, in a statement by its Chairman, Professor Abel Diakparomre and Secretary, Dr. Emmanuel Ufuophu-Biri, called  on the Delta State Government, and all the security agencies, "to save us from the tyranny of these persons with warp perception of contemporary society and especially intervene in this debacle and quickly set in motion operations for the immediate rescue of Dr. Anyanwu and Mr. Nwachukwu from the hands of their abductors."
Describing the incident as unacceptable, bizarre and primitive, the statement said "Academics, all over the world, are the springboard of society's growth and development. This is so because of their role in imparting knowledge to persons who later become builders of societies. A society that has no respect for intellectual resource is destined for doom and damnation. The security of lecturers, and indeed every citizen, rests squarely on the shoulders of Government. Indeed, it is a primary responsibility of Government to protect lives and properties of citizens. The Government of Delta State cannot shy away from this responsibility.
'We, members of the academic community in Abraka, had thought that the era of kidnapping, especially the kidnapping of Delta State University lecturers, which was very pervasive some years back, had become a thing of the past. The resurgence of this criminal activity cannot be tolerated or allowed to fester.
"Apart from the danger to the individual lecturers, it is a total disgrace to the nation's image and the psyche of the populace. It is hardly heard of, anywhere in the world, that University lecturers are maltreated, let alone kidnapped.
'It is on record that Nigerian lecturers are among the most sought after intellectuals in the world. Many of these have however chosen to remain in Nigeria to contribute to their quota to the reinventing and regeneration of our society in spite of the not very conducive environment in which they work and the lean wages.
"To have hoodlums wanting to squeeze them further through kidnap is crossing the threshold. It is pathetic that the extremely patriotic ones who have chosen to stay behind to help build the nation are being picked for ransom by criminally-minded persons and groups. The solution to all these lies squarely with Government.