By Dayo Johnson Akure
FOR allegedly illegal deduction from his account, a middle aged man yesterday stormed a commercial bank in Akure, the Ondo state capital and slapped a female banker. Not done, he reportedly snatched no fewer than five computers and counting machine in the banking hall. Business activities in the branch of the old generation bank was disrupted for almost one hour before police detectives arrived the scene.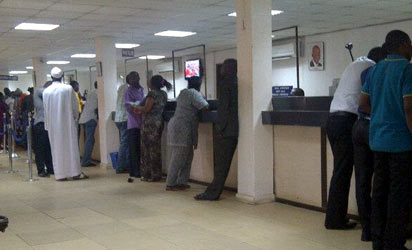 He was said to have stormed the bank at about 1pm and went straight to the customer care where he slapped the bank female official for the illegal deductions from his account with the bank.
The female bank official was assaulted for not giving him the needed attention when he complained of the illegal deduction from his account. The drama instantly halted business transactions in the banking hall according to eyewitness account.
Saturday Vanguard gathered that he complained loudly after assaulting the banker of constantly receiving debit alert  on his account without any explanation from the bank.
He was said to have ordered all the workers to vacate the bank before he caused more havoc. It was gathered that he shouted on top of his voice in the banking hall that "l will bring down this bank. Everybody should leave now. I am a citizen of the country, why will they deduct my money without explanation.. fuck everybody here.."  He reportedly brandished his international passport while complaining to all those present in the banking hall. Both the bank workers and customers fled to different direction as the  customer went wild. Many of the bank workers and customers thought that he was acting a script that would prelude into a robbery operation.
He reportedly attacked the bank's security personnel who confronted him during the drama
Sources said that a soldier who was in the banking hall while the drama was playing out approached him and  pleaded with him to direct his grievances to the bank's management but he reportedly shunned him.
Unknown to him that the man who approached him is a soldier, Vanguard gathered that the soldier left the banking hall and later returned with six heavily armed mobile policemen who descended on the man.
He was reportedly beaten up by the detectives after which he was taken away for questioning.
Contacted, the state Police Image maker Femi Joseph confirmed the arrest of the man adding that they are still interrogating his complaints against the bank.