By Dayo Johnson
Akure—A couple have reportedly abducted two children of their landlady in Okedogbon area of Owo in Ondo State, barely seven days after renting a room from the mother of the abducted children, Abimbola Olamilekan.
The tenants, it was gathered, became friendly with the babies, one of which is a six-month-old, immediately they moved into the house.
Police source said the suspects did not enter into any written agreement with the landlady so as to have firsthand information about them, but she only collected six months' rent from them before they moved in.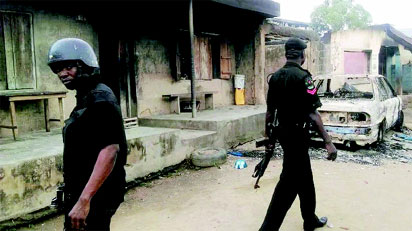 Vanguard gathered that on the day the couple stole the babies, the landlady was said to be washing some clothes and the children were distracting her.
The tenant offered to relieve her by taking the children for a walk and to buy biscuit for them only to disappear into the thin air. Her husband also disappeared soon after.
A source said the abduction was well planned by the tenants, whose sole reason of moving to the house was to perpetuate the evil.
According to the source, "this ugly incident happened just exactly seven days she (tenant) and her husband moved to the house. When the babies' mother was washing clothes, she carried the baby on her back, while the second child started crying.
"The tenant told their mother that she wanted to go and buy biscuit for them in a nearby grocery shop. The mother released her babies to her. Several hours later, the tenant did not return with her them. So she raised the alarm."
Another neighbour told Vanguard that "days after the tenant and the husband failed to return, a search party was organised and it was agreed that the room be broken into. Unfortunately, only a bed sheet was found on the floor in the room."
The state's Police image-maker, Femi Joseph, who confirmed the incident, said the whereabouts of the kids and their abductors is still unknown.
His words: "The mother of the victims had been invited, but she told us that she had no personal details of the tenant before giving them the apartment. This is wrong and careless.
"We are still on it and will try our best to get the children freed and the kidnappers arrested."