The AIDS Healthcare Foundation (AHF), an NGO, has advised youths to play safe as they celebrate this year's Valentine.
Ms Christy Awunor, the State Nursing Coordinator, AHF, gave the advice in an interview with newsmen on the sidelines of the 2018 World Condom Day on Thursday in Abuja.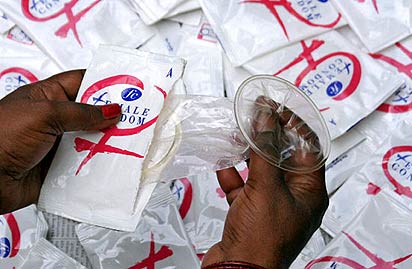 Awunor said that it was never out of fashion for people to play safe by protecting themselves with the use of condoms.
"AHF commemorated World Condom Day in 39 countries, distributed 300,000 condoms and tested 43,000 people in six states of the federation.
"The event was held in Anambra, Benue, Cross River, Kogi and Nasarawa States as well the FCT.
"Our message today is that condoms are always in fashion and it is never out of fashion to play safe and practice safer sex.
"World condom day aims at increasing awareness about condoms as means of preventing HIV and AIDS as well as for contraception,'' she said.
Awunor explained that the event also aims at demonstrating and educating the public on the appropriate way to use condoms.
Besides, she advised users to check expiring dates of condoms as a safety guide, adding that condoms must be brittle to avoid tear during sex.
"Condoms should not be torn with the teeth as most people do, it is proper to look for the rough edge and tear neatly.
"Wearing of double condoms as guise for double protection is also not advisable; one must be used at a time.
"Most modern condoms come in various flavours with no side effect and are designed to give extra satisfaction to the users," Awunor added.
She said that the foundation had visited various schools and communities to create awareness on the danger of unsafe sex.
Newsmen report that AHF is one of the largest global AIDS organisation currently providing medical services to over 855,000 clients in 39 countries.
NAN