The Technical Committee on Nigeria Yam Export Programme says it canvassing for the introduction of weights and measures for yam sales in the local markets.
Prof. Simon Irtwang, the committee's Chairman, said this in an interview with Newsmen in Lagos on Wednesday.
He said that introducing weights and measures for the sale of yams would help yam exporters to know the exact cost of yams being exported to other countries.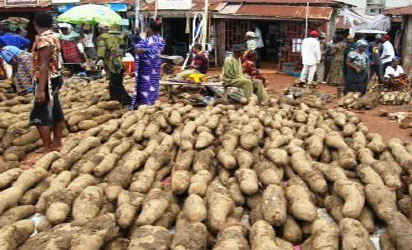 "All other agricultural produce are sold in weights and measures.
"Grains are sold in 50kg. bags, 100kg. bags, mudu, paint containers, tins and cups.
"The export of yams reveals that there are no such weights and measures but yams are sold in tubers locally except for those processed into yam flour and chips.
"In United Kingdom and the U.S., where our focus for yam export is currently on, they buy yams in weights and measures.
"Back home, yam farmers sell in tubers and this is not helping us in determining the exact prices of yams in kilos.
"These are some of the challenges the committee is looking at and proffer solutions," he said.
Irtwang said that the committee was trying to resolve this at the level of the Yam Farmers Association and Prospective Yam Exporters Association.
According to him, the committee has been telling members of the associations to buy scales so that some kind of weights and measures would be on the drawing board for local sale of yams.
He said that once the farmers were able to achieve the sale of raw tubers of yams in weights and measures, it would go a long way in boosting yam exports.
Irtwang said that it would also mean that Nigeria had been able to standardise buying and selling of raw tubers of yams locally to meet international standards.